with a kick. [grilled ancho chile & brown sugar-rubbed pork tenderloin]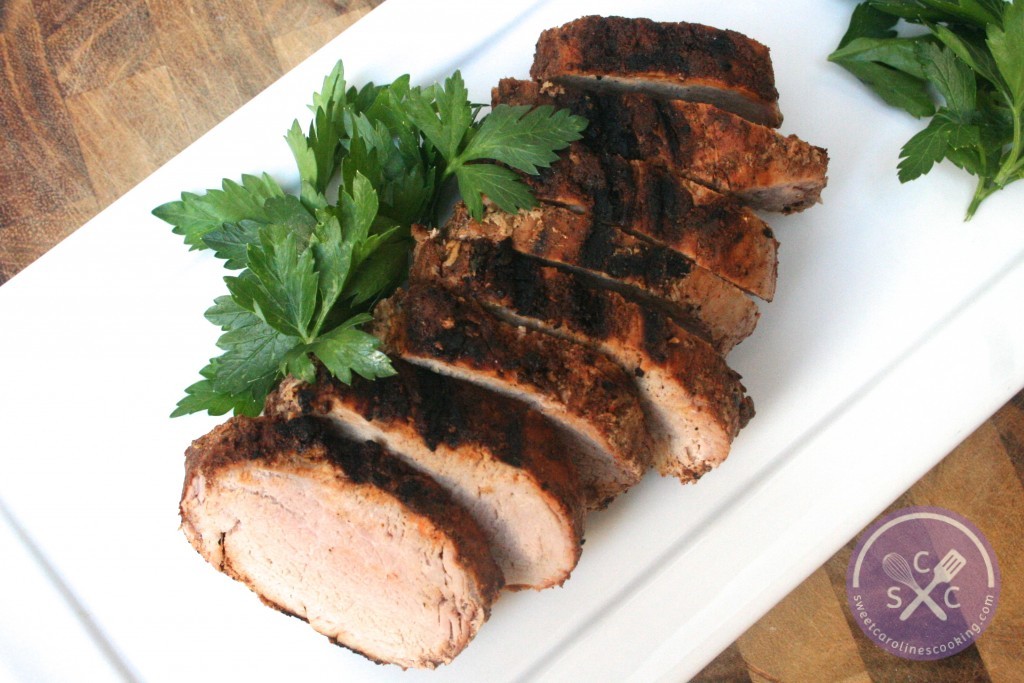 This grilled pork tenderloin is unbelievably delicious and super easy to make! The ancho chile pepper gives it a kick, but just the right amount–especially considering my low spice tolerance!
grilled ancho chile & brown sugar-rubbed pork tenderloin
Prep time:
Cook time:
Total time:
Ingredients
1½ lbs. pork tenderloin
1 tbsp. ancho chile pepper
1 tbsp. light brown sugar
1 tsp. paprika
¼ tsp. cinnamon
¼ tsp. salt
¼ tsp. ground black pepper
1 tbsp. grape seed oil
Instructions
Preheat oven to 400 degrees.
In a medium bowl, mix together the chile pepper, brown sugar, paprika, cinnamon, salt and pepper.
Rinse and dry off the pork tenderloin, and place on a large cutting board. Trim off any silver. Massage the 1 tbsp. grape seed oil on both sides of the tenderloin.
Sprinkle half of the dry rub on one side of the pork, then the remaining half of the rub on the other side of the pork.
Preheat indoor grill pan to medium heat.
Once grill is hot, place pork on grill and cook 5-8 minutes, without flipping. Turn the pork over and cook another 5 minutes.
Transfer the pork to a glass baking dish and place in oven. Roast until pork is slightly pink, about 10-15 more minutes. (Might take more or less time, depending on the heat intensity of your oven)
Remove pork from the oven and let rest a few minutes. Transfer to a cutting board and slice pork; serve.