happy belated 4th of July! [recap]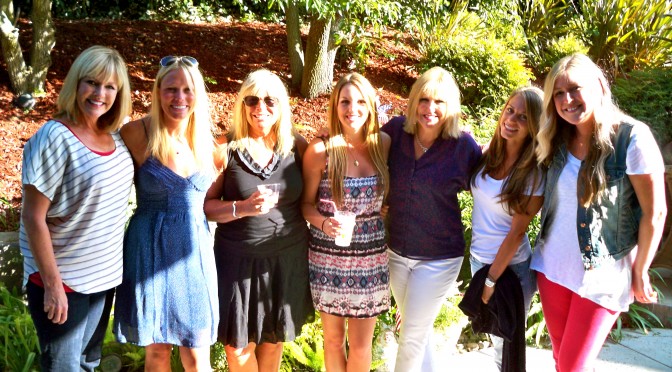 I know I'm late, but happy 4th of July! It's been a busy work week, but I was still able to spend a good amount of time with my family and relatives in town from Ohio–primarily because my boss was generous enough to give us the day off yesterday.
While home, we ate some unbelievably delicious food (my uncle is an incredible cook, or rather, chef), drank copious amounts of wine and laid in the sun for far too long.
Back to work today, but at least it's Friday! Hope everyone has a great weekend.
Lemon trifle recipe:
1box sliced lemon pound cake, slices cut into quarters
Lemon curd (recipe below)
Homemade whipped cream (recipe below)
4 tbsp. Grand Marnier, divided
2 packages Driscoll's strawberries, cored and halved
1 package blueberries, rinsed and stems removed
Directions:
Line the bottom of a glass trifle bowl with half of the lemon cake slices. Drizzle 2 tbsp. Grand Marnier over the cake pieces. Spread half of the lemon curd whipped cream over the cake, then top with half of the berries. Add another layer of lemon cake (drizzled with Grand Marnier) then top with the last of the lemon curd whipped cream.
Arrange remaining berries on top. Use the rest of the plain whipped cream for decoration, if desired.
Lemon curd recipe:
3 large egg yolks
Zest of 1 lemon
1/4 cup freshly squeezed lemon juice (about 2 lemons)
6 tbsp. sugar
4 tbsp. unsalted butter, cold and cut into pieces
Directions:
Combine yolks, lemon zest, lemon juice and sugar in a small saucepan. Whisk to combine. Set over medium heat, and stir constantly with a wooden spoon, making sure to stir sides and bottom of pan. Cook until mixture is thick enough to coat back of wooden spoon, 5 to 7 minutes.
Remove saucepan from heat. Add the butter, one piece at a time, stirring with the wooden spoon until consistency is smooth.
Transfer mixture to a medium bowl. Lay a sheet of plastic wrap directly on the surface of the curd to avoid a skin from forming; wrap tightly. Let cool; refrigerate until firm and chilled, at least 1 hour.
Homemade whipped cream recipe:
1 qt. heavy whipping cream
1/2 tsp. vanilla extract
1-2 tbsp. confectioner's sugar
Recipe:
In a large bowl, using electric mixer, whip cream until stiff peaks are just about to form. Beat in the vanilla and sugar until peaks form. Make sure not to over-beat.
Fold about half of the whipped cream into the lemon curd.
The gorgeous table spread at our family friends' house.
Relatives from Ohio!
My best friend Taylor and me.