hello, summer. [watermelon panzanella salad]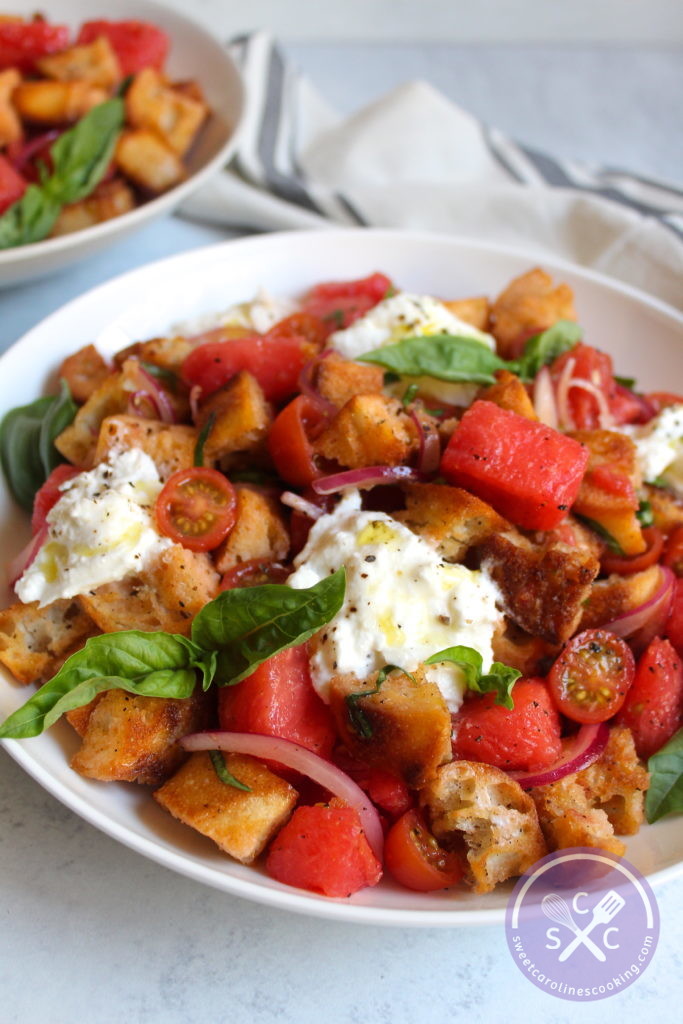 This dish just screams summer, am I right? Juicy watermelon, fresh basil, creamy burrata – all the good stuff. The panzanella is delicious on its own, but would be great as a side dish alongside grilled chicken, steak or fish.
watermelon panzanella salad
Prep time:
Cook time:
Total time:
Ingredients
Panzanella salad recipe:
8-10 oz. French baguette, cut into 1-inch cubes (approx. 6 cups)
2-3 Tbsp. extra-virgin olive oil
½ cup red onion, thinly sliced
½ cup cherry tomatoes, halved
16 oz. (2 cups) watermelon, cut into chunks
¼ cup basil chiffonade, plus more for garnish
4 oz. burrata cheese, torn
Dressing recipe:
¼ cup extra-virgin olive oil
2 Tbsp. red wine vinegar
2 tsp. honey
1 tsp. Dijon mustard
1 garlic clove, grated or crushed
¼ tsp. salt
¼ tsp. black pepper
Instructions
Preheat oven to 425 degrees.
Spread bread cubes on a baking sheet and drizzle with 2-3 Tbsp. olive oil, then season with salt and pepper. Toss to coat.
Bake bread 10-12 minutes, or until crispy and edges are golden brown.
While the bread toasts, prepare dressing by combining all ingredients in a small bowl. Whisk together.
Transfer 3 Tbsp. of the dressing to a separate small bowl and add the sliced red onion. Let sit for 10-12 minutes.
In a large bowl, add the toasted bread, tomatoes, watermelon, marinated red onions and basil chiffonade; toss to coat.
Place panzanella in the fridge and let sit for 20-30 minutes. Once ready to serve, transfer panzanella to a platter and garnish with torn burrata and additional basil.