my go-to. [creamy salsa verde chicken enchiladas]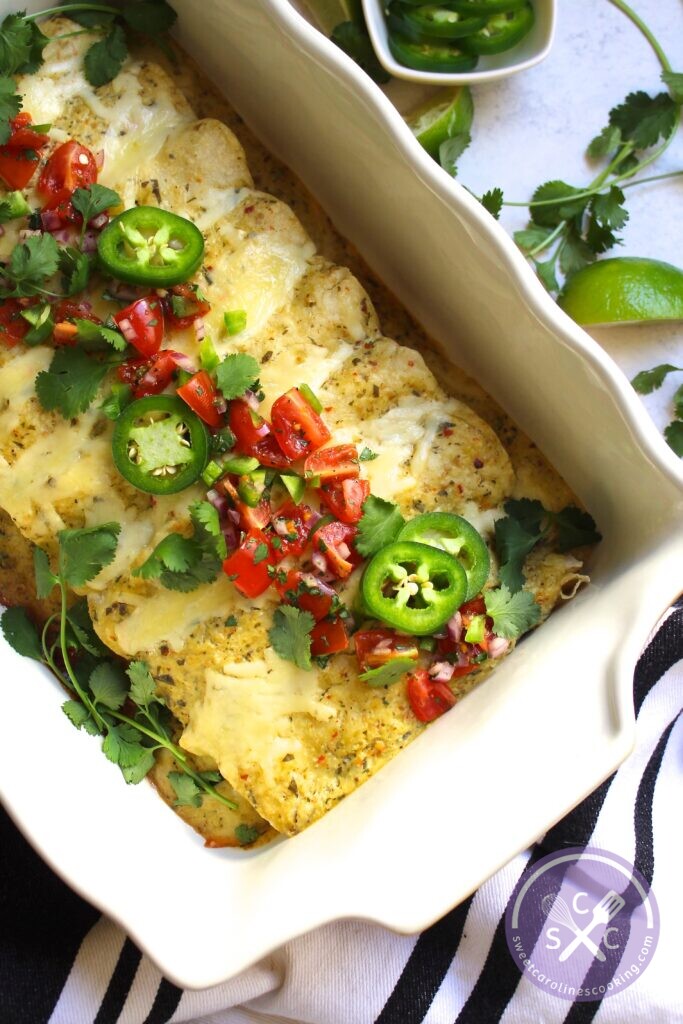 Enchiladas have always been my go-to meal. When I'm not sure what to make for dinner and I'm craving Mexican food (which is pretty much 99% of the time), I make enchiladas. These creamy salsa verde chicken enchiladas were some of the best I've made in a while. They were even more special because they were made with a jar of Tejano Salsa Verde my brother shipped from his hometown of Dallas, Texas – and apparently you can only buy the salsa in Texas (but I guess there's always Amazon). The enchiladas can of course be made with any jar of spicy salsa verde, though, so you really can't go wrong!
creamy salsa verde chicken enchiladas
Prep time:
Cook time:
Total time:
Ingredients
Salsa verde sauce recipe:
1 jar (16 oz.) Tejano Salsa Verde, Medium (or another type of salsa verde)
3-4 Tbsp. cilantro, finely diced
3-4 Tbsp. sour cream
6 oz. cream cheese, at room temperature, (add more or less depending on desired thickness and spice level)
¼ cup chicken broth
Filling recipe:
1 large boneless, skinless chicken breast, poached then shredded
2 Tbsp. canola oil
1 small red bell pepper, sliced into thin strips
½ red onion, sliced into thin strips
1 jalapeno, seeded, deveined and finely diced
½ tsp. cumin
½ tsp. chili powder
Salt and pepper, to taste
1 Tbsp. cilantro, finely chopped
1 cup chicken broth
¼ salsa verde sauce
Enchilada recipe:
14-15 corn tortillas
6-8 oz. shredded Monterey Jack cheese
Fresh cilantro, for garnish
Pico de gallo, for garnish
Lime wedges, for garnish
Instructions
For the salsa verde sauce:
Heat a medium saucepan over medium heat, then add jar of Tejano Salsa Verde. Next, add cilantro, sour cream, cream cheese and chicken broth, whisking together until smooth and heated through. If consistency is too thick, add additional chicken broth; if consistency is too runny, add additional cream cheese or sour cream. Cook sauce on medium-low for 10-15 minutes. Remove from heat and set aside.
For the filling:
Heat a large pot of water over high heat and bring to a boil. Add chicken breast and cook until done, approximately 15-20 minutes. Remove from water then once cool enough to handle, shred chicken. Set aside.
Warm a large skillet over medium heat, then add 2 Tbsp. canola oil. Once hot, add sliced bell pepper, onion and jalapeno and cook until lightly browned, 4-5 minutes.
Reduce heat to low, then add shredded chicken, cumin, chili powder, salt, pepper and cilantro. Mix everything together, then add chicken broth and ¼ cup salsa verde sauce.
Bring mixture to a simmer, cooking until liquid is almost evaporated, roughly 8-10 minutes.
For assembly:
Pour a large spoonful of the salsa verde sauce in a 9 x 13-inch baking dish and coat the bottom.
Place corn tortillas on a microwave-safe plate and microwave 20-30 seconds, until soft. Working one at a time, dip both sides of a corn tortilla in the sauce. Place sauce-coated tortilla on a cutting board, then place a small portion of the chicken mixture in the middle; top with 2-3 tbsp. shredded Monterey Jack cheese. Carefully and tightly roll tortilla (making sure not to rip the tortilla), then place seam side down in the baking dish.
Repeat with the remaining tortillas (you should be able to make 14-15 enchiladas). Pour the remaining sauce over the enchiladas, then sprinkle desired amount of shredded Monterey Jack cheese on top.
Place enchiladas in the oven and cook about 15-20 minutes, or until cheese is melted and bubbly. Remove from oven and let cool slightly. Garnish enchiladas with pico de gallo, fresh cilantro, jalapeno and lime wedges.