no regrets. [chicken & veggie stir fry]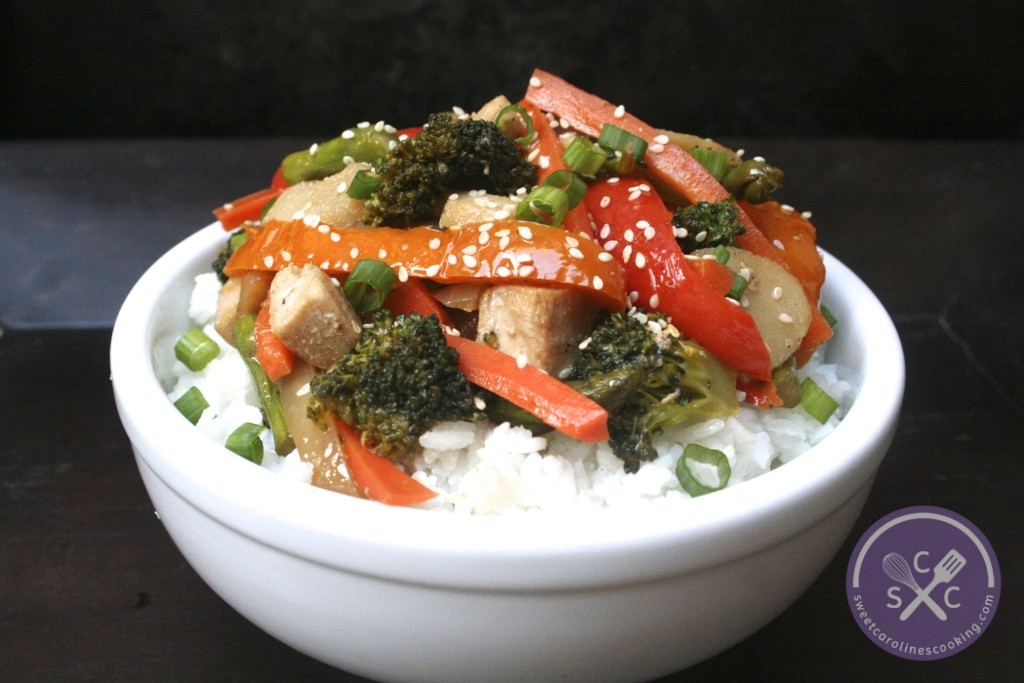 Happy Friday! Get your weekend started off right with this healthy, delicious and colorful chicken stir fry. You won't regret it. ;)
chicken & veggie stir fry
Prep time:
Cook time:
Total time:
Ingredients
Stir fry recipe:
Olive oil
1 lb. boneless, skinless chicken breasts, cut into bite-size pieces
Salt and pepper
1 yellow onion, cut into slices
3-4 cloves garlic, minced
1 crown of broccoli, cut into small pieces
3 large carrots, peeled then cut into thin strips
1 stalk asparagus, trimmed then cut into 1-inch pieces
1 red bell pepper, sliced into strips
1 orange bell pepper, sliced into strips
1 can (8 oz.) sliced water chestnuts, drained
Jasmine rice, cooked, for serving
Sesame seeds, for garnish
Green onion, sliced, for garnish
Sauce recipe:
½ cup low-sodium soy sauce
½ cup chicken broth
1 heaping tsp. sesame oil
1 heaping tsp. rice vinegar
1 tbsp. honey
2 cloves garlic, minced
Instructions
Heat 2 tsp. olive oil in a large skillet over medium heat. Season both sides of chicken pieces with salt and pepper, then add to the pan. Cook until done, about 4-5 minutes per side.
Remove chicken from the pan and set aside in a bowl.
Add a drizzle of olive oil to the pan, then add onion and garlic. Cook until translucent and aromatic, 2-3 minutes, then add broccoli. Steam broccoli for a few minutes, until al dente. Remove onion and broccoli from pan and transfer to a bowl; set aside.
Next, add a drizzle more of olive oil to the pan, then add the carrots, asparagus and bell peppers. Cook vegetables until they begin to soften, 3-4 minutes.
Add the chicken, onion and broccoli back to the pan and mix together. Add the water chestnuts and let cook another 1-2 minutes.
For the sauce: In a small bowl, whisk together the soy sauce, chicken broth, sesame oil, rice vinegar, honey and garlic.
Pour the sauce on top of the stir fry and mix together, so all of the veggies are covered in sauce.
Remove from heat and serve over jasmine rice. Top stir fry with sesame seeds and sliced green onion.