fresca. [cilantro-lime grilled chicken topped w. pico de gallo & cotija cheese]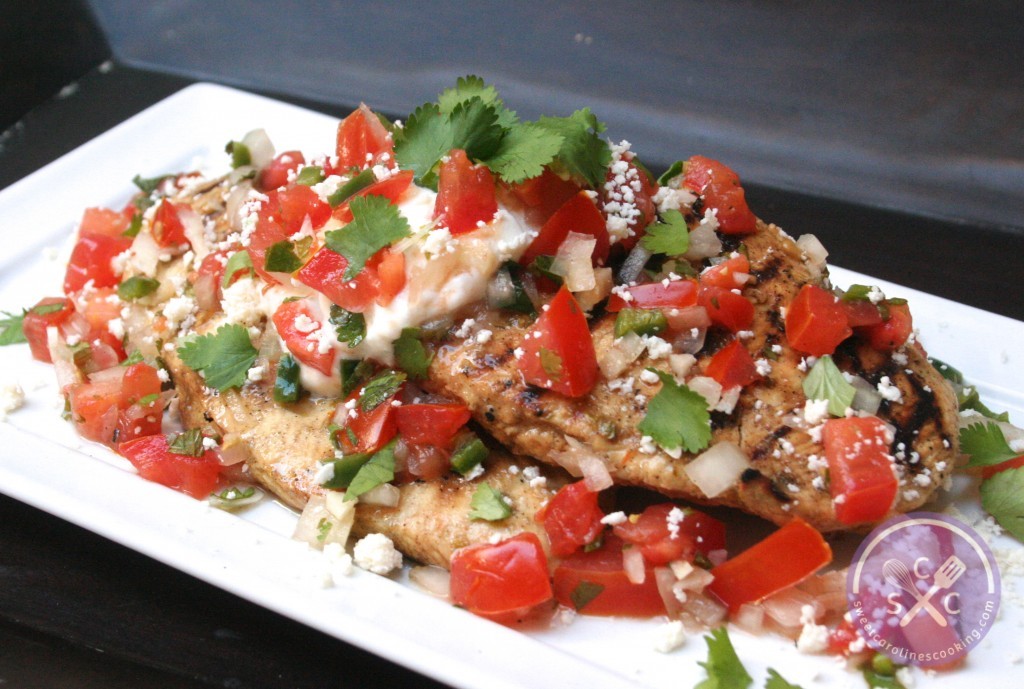 Happy Friday! I hope everyone has a nice and relaxing three-day weekend, and a lovely Valentine's Day tomorrow!
cilantro-lime grilled chicken topped w. pico de gallo
Prep time:
Cook time:
Total time:
Ingredients
Chicken recipe:
6 boneless, skinless chicken breasts
¼ cup fresh lime juice
¼ cup olive oil
3 cloves garlic, minced
2 tbsp. fresh cilantro, chopped, plus more for garnish
1½ tsp. light brown sugar, firmly packed
1½ tsp. salt
1 tsp. ground cumin
1 tsp. ground black pepper
Vegetable oil for brushing grate
Sour cream, for garnish
Cotija cheese, crumbled, for garnish
Pico de gallo recipe:
5 Roma tomatoes, diced
1 jalapeno, seeded, de-veined and diced
2-3 tbsp. fresh cilantro, chopped, plus more to taste
Juice of 1 lime
Salt and pepper, to taste
Instructions
Place a chicken breast between two sheets of plastic wrap and, using the flat side of a meat mallet, gently flatten chicken until it is about ½-inch thick. Repeat with the other chicken breasts. Place the chicken in a large Ziplock bag or in a shallow dish.
For the marinade: In a bowl, combine the lime juice, olive oil, garlic, chopped cilantro, brown sugar, salt, cumin and pepper and whisk until thoroughly blended. Pour the marinade over the chicken, coating all sides well. Squeeze all of the air out of the bag and seal it, or cover the dish. Refrigerate the chicken for a minimum of 1 hour or for up to 3 hours.
Remove from the refrigerator 30 minutes before grilling.
Preheat indoor grill pan and brush grates with vegetable oil.
Remove the chicken from the marinade and drain off the excess marinade. Place the chicken on the grill pan and cook for about 2 minutes. Rotate the chicken 90 degrees to create cross-hatching and cook another 1½ - 2 minutes longer. Flip the chicken breasts over and continue grilling, repeating the steps for cross-hatching, until tender and cooked through, 3-4 minutes longer.
Remove the chicken from the grill and transfer to a serving platter. Garnish with pico de gallo, sour cream, cilantro and cotija cheese.
Notes
Recipe adapted from Nordstrom cookbook.