say cheese. [spicy beef queso dip]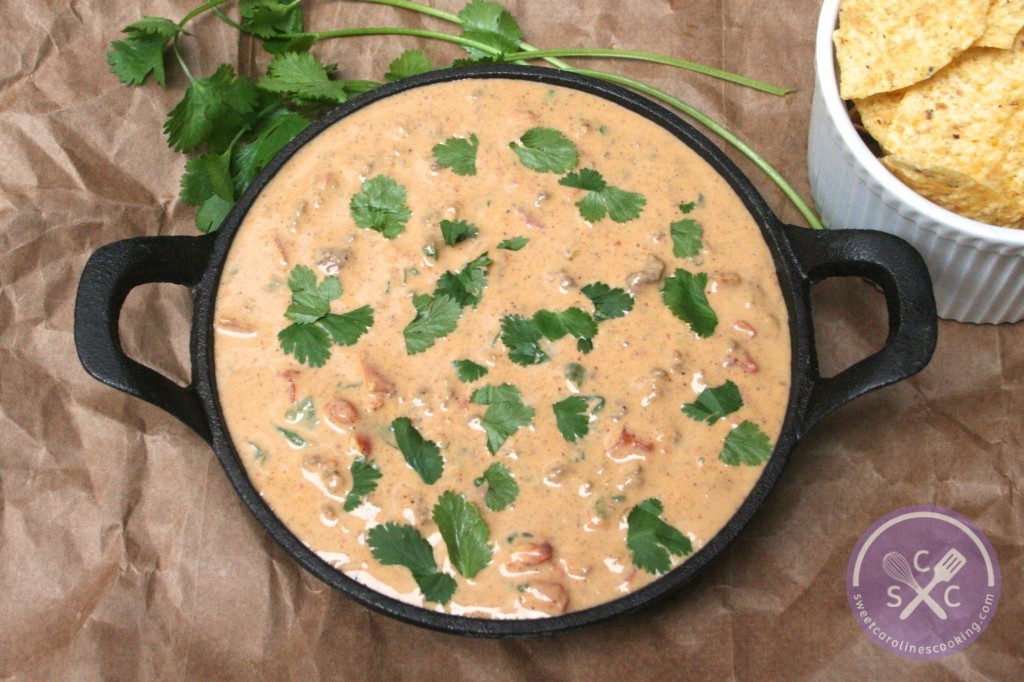 My roommate and I are hosting a white elephant party tonight and are providing some of the appetizers. I wanted to make something with ground beef, since I had some on hand, so I decided to make a velvety and delicious beef queso dip. I speak from experience when I say that this dip is addicting…I couldn't stop "taste testing" it last night!
beef queso dip
Prep time:
Cook time:
Total time:
Ingredients
2-3 tbsp. olive oil
1 lb. ground beef
1 package (1.25 oz.) Taco Bell taco seasoning mix
16 oz. Velveta cheese, cubed
1 can (14.5 oz.) diced tomatoes, with liquid
3 Roma tomatoes
2 jalapenos, seeded, de-veined and diced
¾ cup shredded Monterey Jack cheese
½ cup shredded sharp cheddar cheese
½ tsp. chili powder, plus more to taste
¼ tsp. cayenne, plus more to taste
Salt and pepper, to taste
¼ cup fresh cilantro, chopped
Instructions
In a large skillet, heat olive oil over medium-high heat. Add ground beef and cook until browned, 5-8 minutes, crumbling the beef as it cooks. Add Taco Bell seasoning and ¾ cup water; stir. Bring to a boil, then reduce to a simmer on medium-low heat and cook another 10 minutes, until the beef soaks up the liquid, stirring occasionally. Once done, transfer ground beef to a bowl.
With the skillet on medium-low, add the cubed Velveta, canned tomatoes and diced tomatoes. Stir until cheese is melted, 4-5 minutes. Add jalapenos, Monterey Jack cheese and sharp cheddar; mix until combined. Return ground beef to the pan.
Season beef queso with chili powder, cayenne, salt and pepper. Add chopped cilantro and mix. Serve immediately.