almost back to normal. [shredded chicken enchiladas w. bell peppers, corn & black beans in red sauce]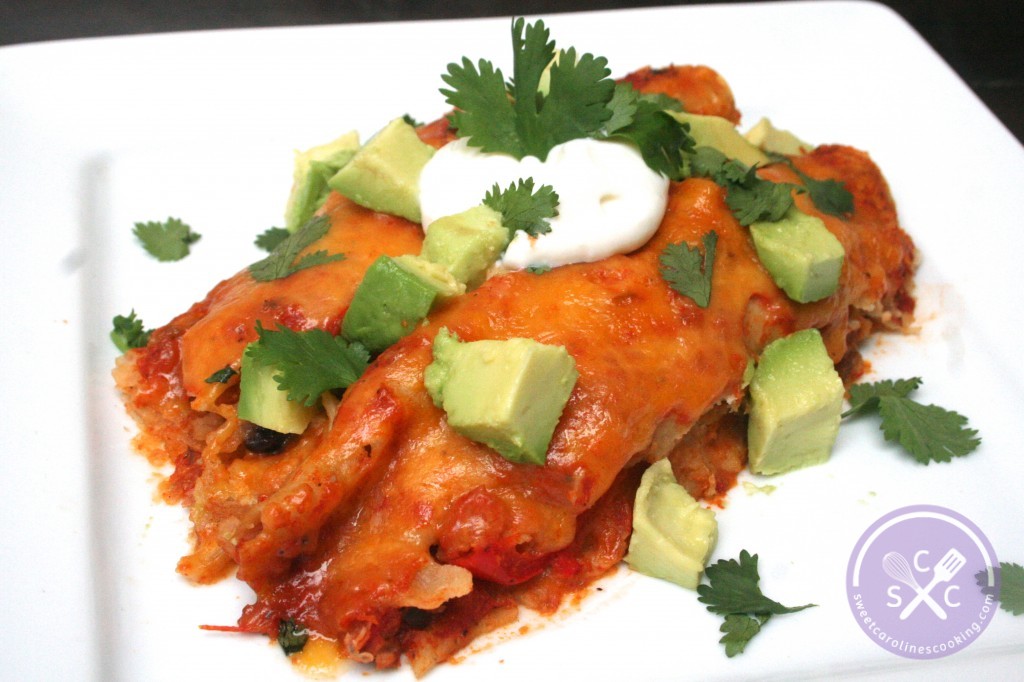 I'm finally back in the kitchen! Although I'm still healing from my gum procedure last week, I'm thankfully able to eat soft, solid foods. Of course, I missed eating Mexican food, so I made these deliciously cheesy enchiladas. This recipe is very similar to these enchiladas, but I switched it up a bit and added corn, beans and avocado. Yum!
shredded chicken enchiladas w. bell peppers, corn & black beans in red chile sauce
Prep time:
Cook time:
Total time:
Ingredients
Red sauce recipe:
3 tbsp. vegetable oil
½ yellow onion, diced
3 cloves garlic, minced
1½ jalapenos, deveined, seeded and diced
6 oz. tomato paste
3 Roma tomatoes, diced
3 cups chicken broth
½ - 1 tsp. ground cumin
½ tsp. oregano
Salt and pepper, to taste
Enchilada recipe (makes 10 enchiladas):
3 boneless, skinless chicken breasts, poached then shredded
Olive oil
½ red bell pepper
½ orange bell pepper
3 tbsp. cilantro, chopped
3-5 cups red chile sauce (above)
1 can (15 oz.) black beans, drained and rinsed
¾ cup frozen corn
10 corn tortillas
1½ - 2 cups shredded Mexican cheese, plus 1 cup for topping
1 avocado, diced, for topping
Fresh cilantro, for garnish
Light sour cream, for garnish
Instructions
Preheat oven to 350 degrees.
For the red chile sauce: Heat oil in a large saucepan or large pot over medium heat. Add onion, garlic and jalapeno. Cook until tender, about 5-7 minutes.
Add the rest of the ingredients, then bring to a boil. Lower heat to a simmer and cook sauce for about 20 minutes. Remove sauce from heat.
Using an immersion blender, puree sauce (or use a blender/food processor).
For the enchiladas: Heat a large skillet over medium heat, then add olive oil. Once hot, add red and orange bell peppers and saute until slightly soft, about 5-7 minutes, stirring occasionally. Reduce heat to low, then add shredded chicken, black beans, corn and cilantro; mix. Next, add red chile sauce, one scoop at a time, incorporating after every scoop--make sure the chicken mixture is coated with the sauce.
To assemble the enchiladas: Place corn tortillas on a microwave-safe plate and microwave 30 seconds, until soft. Working one at a time, dip both sides of a corn tortilla in the remaining sauce. Place sauce-coated tortilla on a cutting board, then place a small portion of the chicken mixture in the middle; top with 2-3 tbsp. shredded cheese. Carefully and tightly roll tortilla (making sure not to rip the tortilla), then place in a 9 x 13-inch baking dish.
Repeat with the remaining 9 tortillas. Pour the remaining sauce over the enchiladas, then sprinkle 1 cup of shredded cheese on top.
Place enchiladas in the oven and cook about 20 minutes, or until cheese is melted and bubbly. Remove from oven and let cool slightly. Garnish enchiladas with diced avocado, fresh cilantro and sour cream; serve.
Note: You will have leftover chicken, so you can make more enchiladas in a separate baking dish, or save the mixture and eat on its own!