ooey gooey. [spicy queso dip]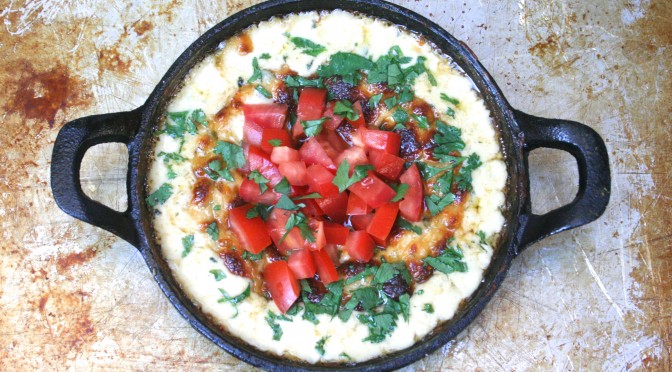 CHEESE! I don't think I could live without it. I've considered cutting out dairy products, but the thought of life without cheese makes me cringe. This queso dip was the epitome of cheesy deliciousness with just the right amount of spice from the serrano. The dip would be perfect for your Fourth of July party tomorrow!


spicy queso dip
Prep time:
Cook time:
Total time:
Ingredients
1-2 tbsp. olive oil
¼ cup yellow onion, finely diced
½ red bell pepper, finely diced
½ yellow bell pepper, finely diced
1 Serrano, finely diced, seeds removed
1½ cups shredded Monterrey Jack cheese
1½ cups pepper jack cheese
¼ cup heavy whipping cream, plus more or less, to reach creamy consistency
1-2 tbsp. fresh cilantro, chopped
Salt and pepper, to taste
1 Roma tomato, diced
Fresh cilantro, chopped, for garnish
Tortilla chips
Instructions
Turn broiler on to high and place oven rack in the top position.
Warm a cast iron skillet over medium heat, then add olive oil. Add onion, red and yellow bell peppers and serrano. Cook until vegetables are soft, but not soggy; about 6-8 minutes. Turn heat to low, then add cheese to skillet, ½ cup at a time, stirring after every addition and allowing cheese to melt. Gradually add whipping cream while adding cheese, constantly stirring, to avoid cheese from clumping. Season with cilantro, salt and pepper.
Place cast iron skillet on top shelf of oven and cook until cheese browns and starts to bubble, about 10 minutes. Remove queso from the oven and place on wire rack. Garnish with diced tomato and cilantro; serve immediately with tortilla chips.