out of the (blue) box. [mac & cheese w. crispy prosciutto & fresh parsley]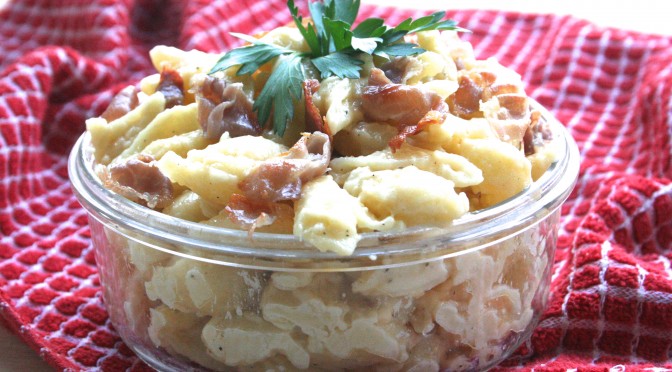 I've finally mastered homemade mac and cheese (bold statement, I know). Though I'm a sucker for Kraft blue box, it can't touch the pasta made from scratch. I kept this recipe relatively simple, only adding crispy prosciutto and fresh parsley. But if you're looking for something more gourmet, give this recipe a try–four-cheese, white truffle oil and mushroom mac and cheese. Yes, it's as decadent and rich as it sounds.
Recipe:
Note: Will only use about 3/4 of the cheese sauce

1 box Barilla Piccolini mini conchiglie shells
8 tbsp. (1 stick) salted butter
7 tbsp. flour
2 cups heavy whipping cream
2 cups fat-free milk
1 cup grated parmesan
1 cup shredded Mexican blend cheese
1 cup Jarlsberg, grated
1 cup Gruyère, grated
2 tsp. Sherry wine vinegar, plus more or less to taste
3 tsp. salt, plus more or less to taste
2 tsp. ground black pepper, plus more or less to taste
1 tbsp. olive oil
1 package prosciutto, torn into small strips
Fresh parsley, if desired
Directions:
Bring a large pot of water to a boil. Add macaroni and cook according to package directions. Strain pasta then return to large pot.
In a large saucepan, melt butter and flour over medium heat until bubbly and thick, but not browned, about 2-3 minutes. Add whipping cream and milk. Whisking constantly, let mixture thicken, about 8-10 minutes.
Add four cheeses, salt and pepper, and continue stirring. After sauce is smooth and cheese is melted, stir in Sherry wine. Pour 3/4 of the cheese sauce (or less) into pot of pasta and stir together. Season with salt and pepper as needed.
Heat a large skillet over medium-high heat. Add 1 tbsp. olive oil. Place prosciutto strips in pan and cook until slightly golden brown and crispy. Remove prosciutto from skillet and transfer to a paper towel-lined plate.
Top macaroni with crispy prosciutto and fresh parsley, if desired. Serve hot.