unexpected. [tagliatelle w. prosciutto & orange]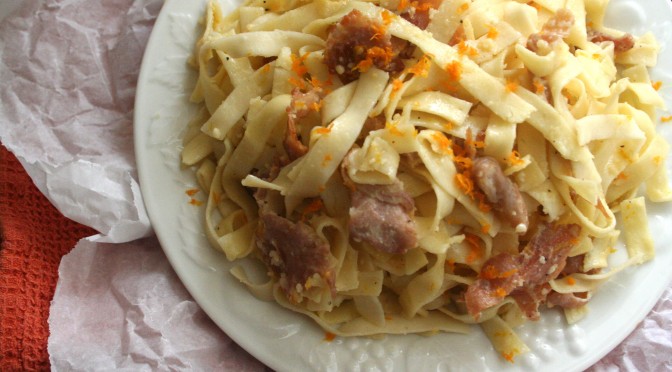 Prosciutto and orange? Sure, why not. I was so intrigued by the recipe that I had to make it last night. Boy, am I ever glad that I did. The sweet and salty combo was unique and refreshing–neither flavor overpowered the other. And as I'm sure you've noticed, I love pasta, so I'm always up for trying something new. I'll definitely be making this one again! Hope everyone has a fantastic weekend.
Recipe:
12 oz. egg tagliatelle or fettuccine (fresh)
2 tbsp. (1/4 stick) unsalted butter
2 oz. thinly sliced prosciutto, torn into 1″ pieces
Zest and juice of 1 orange
1/2 cup heavy whipping cream
Freshly ground black pepper
1/4 cup finely grated Parmesan
Directions:
Bring a large pot of water to a boil. Season with salt; add pasta and cook, stirring occasionally, until 1 minute before al dente, about 2 minutes for fresh pasta, longer for dried. Drain, reserving 1/4 cup pasta water.
Meanwhile, melt butter in a large heavy nonstick skillet over medium-high heat. Add prosciutto; sauté until browned, about 3 minutes.
Add reserved pasta water, orange juice, half of zest, and cream; bring to a boil. Add pasta; cook, stirring, until sauce coats pasta and pasta is al dente, about 1 minute. Season with salt and pepper. Stir in cheese and divide among warm bowls.