love at first bite. [beef tenderloin sandwich w. tomato, avocado, provolone & homemade pesto]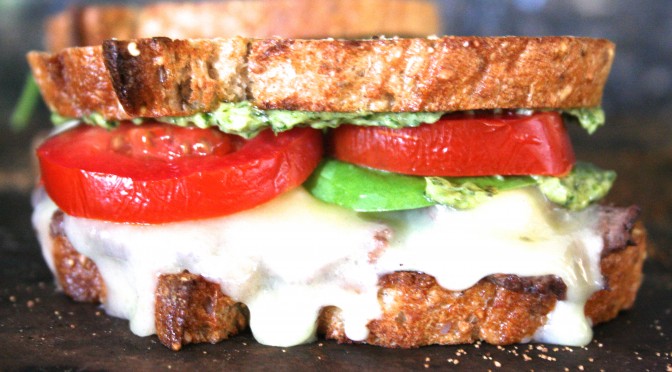 Put your bikini/swim trunks away for the day and go make this sandwich. I promise you won't regret it. Though this isn't a healthy summer recipe, the sandwich is so delicious that it doesn't matter. And as I'm sure you can see from the photo, the gooey cheese takes the cake.
One of the best parts about this sandwich is that it's made up of leftovers. Sure, not everyone has leftover beef tenderloin and homemade pesto sitting in the fridge, but if you do (or want to make everything fresh), I highly suggest you do so. :)
Recipe:
Homemade pesto, use as much as desired
1 tomato, sliced
2 slices provolone
1/2 avocado, sliced
Beef tenderloin, grilled (use rub of your choice)
La Brea Bakery whole grain bread
Directions:
Prepare homemade pesto, as directed. Place two slices of whole grain bread on cutting board. Top bottom piece with beef tenderloin, then provolone. Melt cheese under broiler.
Once melted, remove bottom half of sandwich from broiler, then top cheese with avocado and tomato. Spread a generous amount of pesto on the bottom of the top slice of bread, then place on sandwich. Serve hot.