bottoms up. [homemade margarita w. lime zest]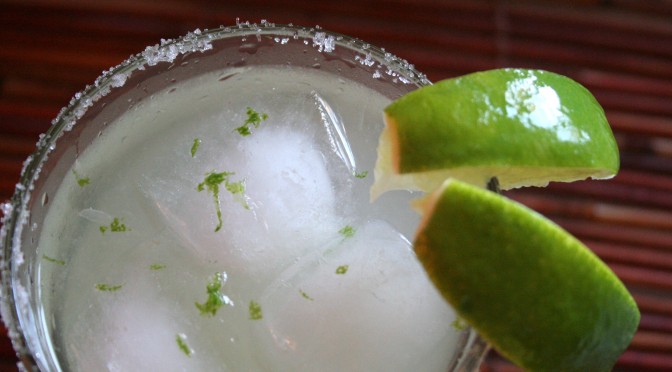 Though this isn't a ground breaking recipe, it'd consider it a worthy staple. I never get around to making homemade margaritas, primarily because I always find it much easier to buy margarita mix for large parties.
However, my apartment was overflowing with limes, so I thought it the perfect opportunity to whip up a margarita (instead of using the limes to bake something fattening, which I would normally do).
For the non-drinkers out there, I would still enjoy this drink without the tequila, as it was sweet and refreshing. I added a bit of lime zest to give the drink an extra burst of flavor.
Recipe:
1/2 cup sugar
1/4 cup water
3/4 cup fresh cold lime juice
1 lime, zested
2 1/2 cups cold water
1/2 cup Camarena tequila, plus more to taste
Ice
Lime wedges, for garnish
Salt, for rim of glass
Directions:
Combine sugar and water in a small saucepan over high heat, bring to a boil and cook until the sugar melts, about 2-3 minutes. Transfer simple syrup to a bowl set over a bowl of ice and stir to cool down.
Place the lime juice, zest and water in a bowl, then add the sugar syrup. Add tequila and ice. Salt rim and garnish with lime wedges.