doctor's orders. [caramelized onion, jarlsberg & arugula burger]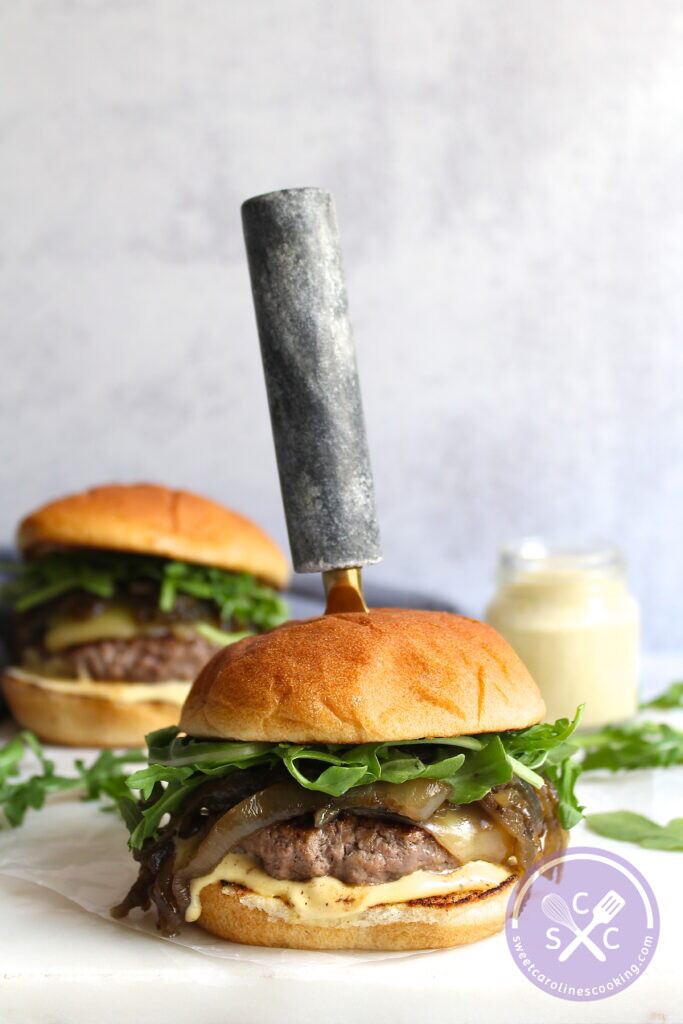 A burger a day keeps the doctor away, right? As I'm sure I've already expressed, I'm a sucker for a smashburger, but I decided to switch it up a bit. This gourmet burger of sorts is stacked with arugula, caramelized onions, jarlsberg cheese, homemade mustard aioli and United Harvest organic grass-fed, grass-finished ground beef. The beef is so juicy and flavorful and really takes this burger to the next level. These were gobbled up in no time!
caramelized onion, jarlsberg & arugula burger
Prep time:
Cook time:
Total time:
Ingredients
Caramelized onion recipe:
2 medium yellow onions, cut into thin slices
2 Tbsp. unsalted butter
1 Tbsp. canola oil
1 tsp. Kosher salt
Mustard aioli recipe:
½ cup mayonnaise
3 Tbsp. Dijon mustard
½ tsp. honey
¼ tsp. garlic powder
½ tsp. Kosher salt
½ tsp. black pepper
Burger recipe:
1 lb. United Harvest Organic Grass-Fed Ground Beef, divided into four 4 oz. patties (roughly 1-inch thick)
1 Tbsp. Worcestershire
¼ tsp. garlic powder
½ tsp. Kosher salt, plus additional for seasoning
¼ tsp. black pepper
Jarlsberg cheese, thinly sliced
Arugula, for garnish
4 hamburger buns
Instructions
For the caramelized onions:
Warm a large cast iron skillet over medium-high heat, then add olive oil and butter. Once melted, add onion slices and 1 tsp. salt. Stir the onions and spread out evenly over the pan.
Reduce the heat to low, place a lid on the pan and cook the onions, checking on them and stirring every 10-15 minutes, for roughly 45 minutes to 1 hour.
Once onions are golden and starting to smell caramelized, remove from the heat.
For the mustard aioli:
While the onions are cooking, whisk together the mayonnaise, Dijon mustard, honey, garlic powder, salt and pepper in a small bowl. Cover with plastic wrap and place in the refrigerator until ready to use.
For the burgers:
In a medium bowl, mix together the ground beef, Worcestershire, garlic powder, salt and pepper. Form the beef into four 4 oz. patties and season the tops with additional Kosher salt.
Heat a non-stick flat grill pan over high heat and let warm up for approximately 3-5 minutes. Lightly coat the grill pan with canola oil spray.
Place the burger patties on the grill pan and cook 2 minutes on one side, then flip and cook another 2 minutes. Add jarlsberg cheese on top of all four patties then cover with a dome shaped lid to melt the cheese.
After about 20-30 seconds, the cheese should be melted. Remove the lids and transfer the burger patties to a cutting board using a spatula.
Once all burger patties are cooked, toast the buns to desired doneness.
To assemble the burgers, spoon a generous amount of the mustard aioli on the bottom bun. Next, top with the burger patty, followed by a handful of caramelized onions and arugula. If desired, spread additional mustard aioli on the top bun, then place on the burger and serve.