semi-guilt-free. [zucchini spaghetti w. jalapeño-cilantro pesto]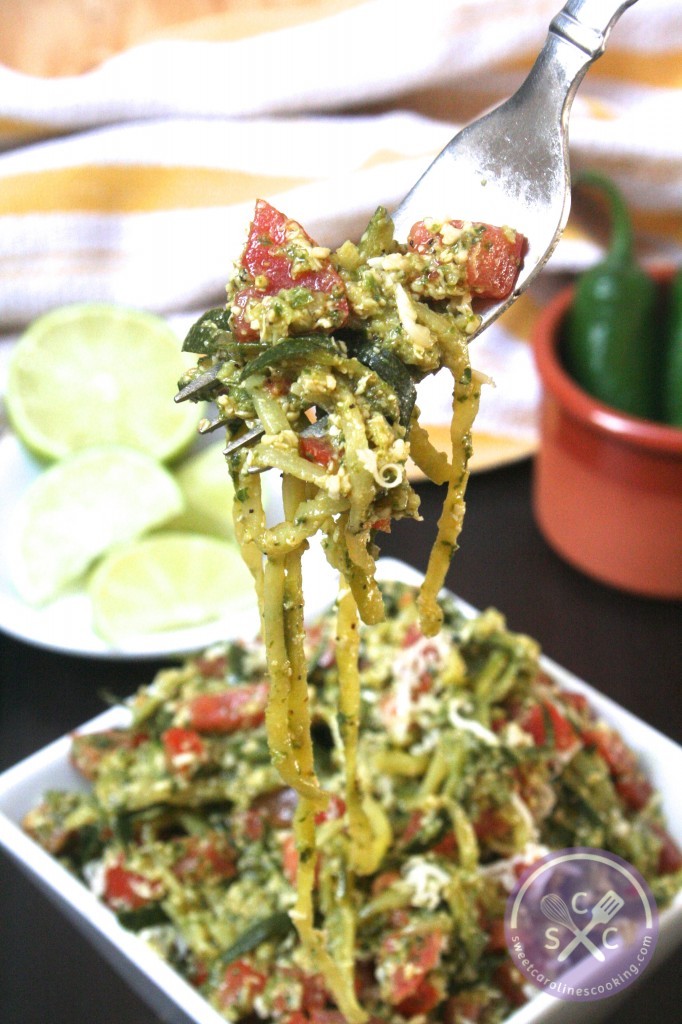 Zucchini noodles aka zoodles are so in right now–or so it seems. After seeing multiple recipes online using zucchini noodles, I had to get my hands on a spiralizer. I have a feeling I'll be using the tool often. This "pasta" was incredibly flavorful and semi-guilt-free (I couldn't help but add cheese)!
zucchini spaghetti w. jalapeño-cilantro pesto
Prep time:
Cook time:
Total time:
Ingredients
4-5 zucchini, julienned with a spiralizer or julienne peeler
2 jalapeños, deveined, seeded and diced
1 cup cilantro
3 tbsp. pine nuts, toasted
1-2 cloves garlic
Juice of 1 lime
¼ cup olive oil, plus more to reach desired consistency
¼ cup Monterrey Jack cheese, shredded
Salt and pepper, to taste
2 Roma tomatoes, diced
Instructions
Bring a large pot of water to a boil, then add julienned zucchini and a pinch of salt. Cook zucchini 2-3 minutes, then drain in a colander. Let the zucchini sit 15-20 minutes to remove excess water. Pat the zucchini noodles with paper towels to remove more water.
In the bowl of a food processor, blend jalapeño until fine. Add cilantro, toasted pine nuts, garlic and lime juice. Gradually add olive oil while blending. Transfer pesto to a small bowl, then add cheese and season with salt and pepper.
Add zucchini noodles to a large bowl, then toss with jalapeño-cilantro pesto; add diced tomatoes. Season pasta with salt and pepper, if necessary, and top with shredded Monterrey jack cheese. Serve.