the lighter side. [potato salad w. blue cheese, crispy bacon & grated hard-boiled egg]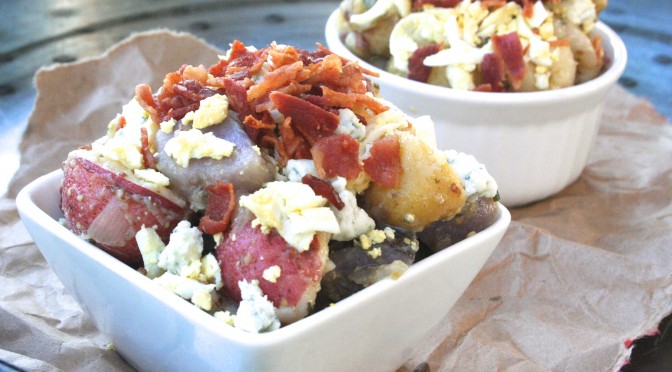 I've never used 'potato salad' and 'light' in the same sentence, until this recipe. The vinaigrette-soaked potatoes burst with flavor and the crispy bacon and grated egg compliment the salad wonderfully. I still love mayonnaise-based potato salads, but this recipe is a delicious and healthier alternative!
potato salad w. blue cheese, crispy bacon & grated hard-boiled egg
Prep time:
Cook time:
Total time:
Ingredients
⅔ cup olive oil
⅓ cup apple cider vinegar
¼ cup minced shallots
1 tbsp. fresh parsley, chopped
1 tbsp. plus ¼ cup fresh chives, chopped
1 tbsp. coarse-grained Dijon mustard
2 tsp. honey
2 tsp. lemon zest
Salt and pepper
3 lbs. small red-skinned potatoes, quartered
8 bacon slices
1-2 hard-boiled eggs, grated
½ cup crumbled blue cheese, if desired
Instructions
In a large bowl, whisk together oil, vinegar, shallots, parsley, 1 tbsp. chives, mustard, honey and lemon zest until well blended. Season dressing with salt and pepper, to taste.
Bring a large pot of water to a boil, then add potatoes. Cook potatoes until just tender, about 8 minutes. Drain. Add warm potatoes to dressing; toss to combine. Season with salt and pepper.
Cook bacon in a large skillet over medium heat until crisp. Drain on paper towel-lined plate. Crumble bacon into small pieces. Serve potato salad in large bowl and top with bacon bits, blue cheese crumbles, grated egg and remaining ¼ cup chives.