burger lover. [juicy hamburger w. pimento cheese, crispy bacon & blackened onions]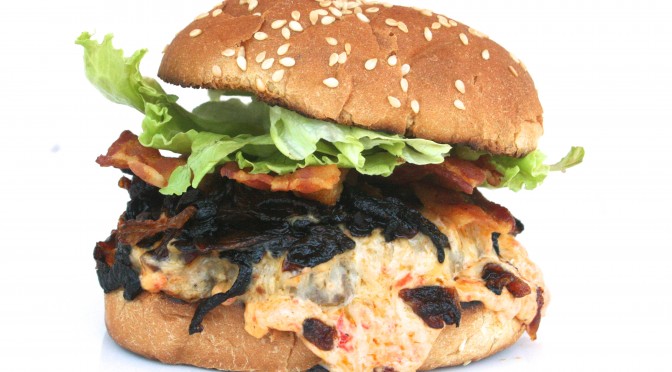 I couldn't help but notice the pimento cheese recipes floating around the Internet, so I wanted to try it myself. Of course, being a burger lover, I decided to use the cheese on a juicy burger. The pimento cheese is delicious plain, as a dip with chips, but the melted, gooey cheese was divine on a burger!
juicy burger w. pimento cheese spread, bacon & blackened onions
Ingredients
Pimento cheese recipe:
3 oz. cream cheese, at room temperature
1 cup grated sharp cheddar
1 cup grated Monterey Jack
½ cup good-quality mayonnaise
3 tbsp. pimentos, smashed
¼ tsp. garlic powder
1 tbsp. grated onion
Salt and pepper, to taste
Burger recipe:
1 lb. ground beef
1 lb. ground sirloin
Salt and pepper
1 lb. bacon, cooked, for topping
Iceberg lettuce, for topping
2 yellow onions, caramelized or blackened, for topping
Pimento cheese spread (recipe above)
Whole wheat sesame burger buns, toasted
Instructions
Using an electric mixer, beat cream cheese until smooth and fluffy, Add all the remaining ingredients and beat until well blended.
In a medium bowl, mix ground beef and ground sirloin together. Form meat mixture into eight ½ to ¾-inch-thick patties. Place patties on a baking sheet, then season both sides of meat with salt and pepper.
Heat barbecue to medium-high heat. Place burger patties on the grill and cook about 5 minutes on each side, or until burgers reach desired doneness. Shortly before burgers are done cooking, place desired amount of pimento cheese on top and let melt. Remove burgers from grill.
On an indoor skillet, toast top and bottom of the buns until golden and crispy, about 2 minutes. Transfer buns, cut side up, to plates. Place burger patties with pimento cheese on top of toasted bottom bun, then top with blackened onions, 1-2 pieces of bacon and lettuce. Top burger with toasted top bun. Serve.