dinner for 12. [three-cheese lasagna w. bolognese sauce]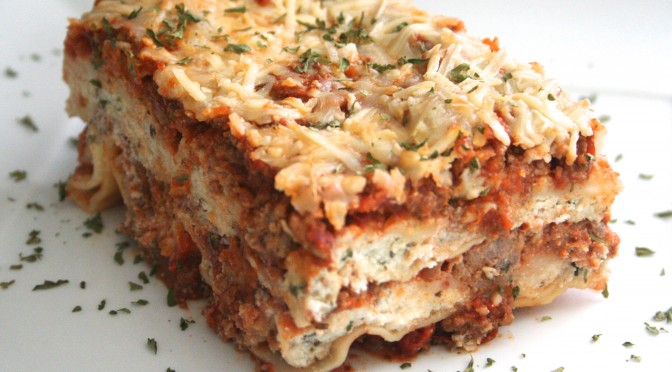 I've pretty much given up on the possibility of chilly weather this holiday season. But that doesn't mean I'm not embracing hearty and comforting fall recipes. This classic lasagna is absolutely delicious and relatively easy to make. Oh, and the recipe makes enough to feed a family of 12…or more. So just know that you'll have a lot of leftovers if making the lasagna for yourself (like I did).
I hope everyone has a wonderful Thanksgiving full of good food, family and friends.
For more lasagna recipes, check out the two below:
Pumpkin, Turkey and Zucchini Lasagna
three-cheese lasagna w. bolognese sauce
Prep time:
Cook time:
Total time:
Ingredients
Bolognese sauce recipe:
1½ jars marinara/spaghetti sauce
½ (14 oz.) crushed tomatoes
1 can tomato paste and 1 jar water
1 tbsp. parsley, plus more to taste
½-1 tbsp. garlic salt
1 tsp. oregano, plus more to taste
1 lb. ground beef
½ lb. sweet Italian sausage
Salt and pepper, to taste
1 medium onion, diced
Cheese filling recipe:
1 jar (32 oz.) ricotta cheese
1 cup bread crumbs
2 tbsp. parsley
2 tsp. oregano
2 tsp. basil
1 egg, beaten
Salt and pepper, to taste
½ box no-boil lasagna noodles (9-10 noodles)
16 oz. mozzarella cheese, grated
1 container (5 oz.) shredded Parmesan
Instructions
Preheat oven to 375 degrees.
For the sauce: In a medium skillet over medium heat, brown ground beef, sausage and diced onion, about 10 minutes. Once cooked, drain meat mixture. Add marina sauce, tomatoes and spices to meat/onion mixture. Simmer to blend favors, about 15 minutes.
For the filling: In a large bowl, mix together the ricotta, bread crumbs, beaten egg, parsley, oregano, basil, and salt and pepper.
Build lasagna in large (9 x 13-inch) baking dish, starting with a layer of sauce, a layer of pasta, a layer of ricotta cheese mixture and a layer of half the mozzarella cheese. Add another layer of sauce, pasta, the remaining ricotta mixture and the mozzarella. Finish with a layer of sauce. Sprinkle shredded Parmesan on top.
Bake, covered with aluminum foil, for 40 minutes. Remove foil and continue baking for 15-20 more minutes. Let cool for 10 minutes, then serve.