deceptive & delicious. [Moscow mule]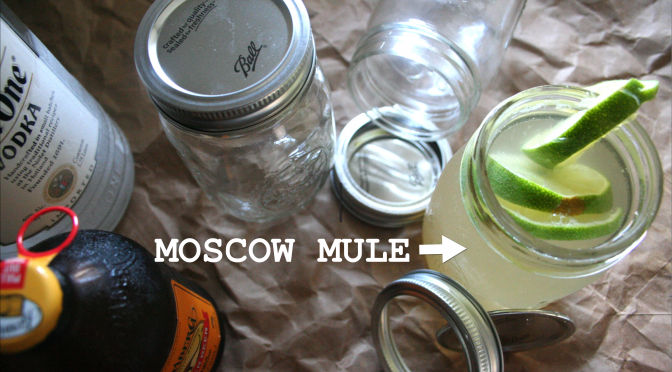 Ever since my friend, Heidi, introduced me to Moscow mule at one of our favorite bars in LA, The Hudson, I've been hooked. It only seemed fitting that my roommate and I recreate the drink for her sister's birthday party. But before finalizing our beverage choice, we had to hunt down the essential ingredient–mason jars. We were finally successful at Cost Plus World Market.
The tartness of the lime and sweetness of the ginger beer (which doesn't contain alcohol) mask the flavor of the vodka–almost completely. So beware and don't gulp these down too quickly!
Hope everyone has a wonderful Labor Day weekend…oh, it's not Friday yet?
Recipe:
1 (12.7) fl. oz. Bundaberg Ginger Beer
3 fl. oz (2 shots) good quality vodka
1/2 lime juice, plus more to taste
1-2 slices of lime, per drink
Ice, if desired
Directions:
Pour ginger beer and vodka in mason jar. Squeeze lime juice into drink and stir. Garnish with lime slices. Add ice, if desired.