sweet & salty. [brown butter toffee cookies]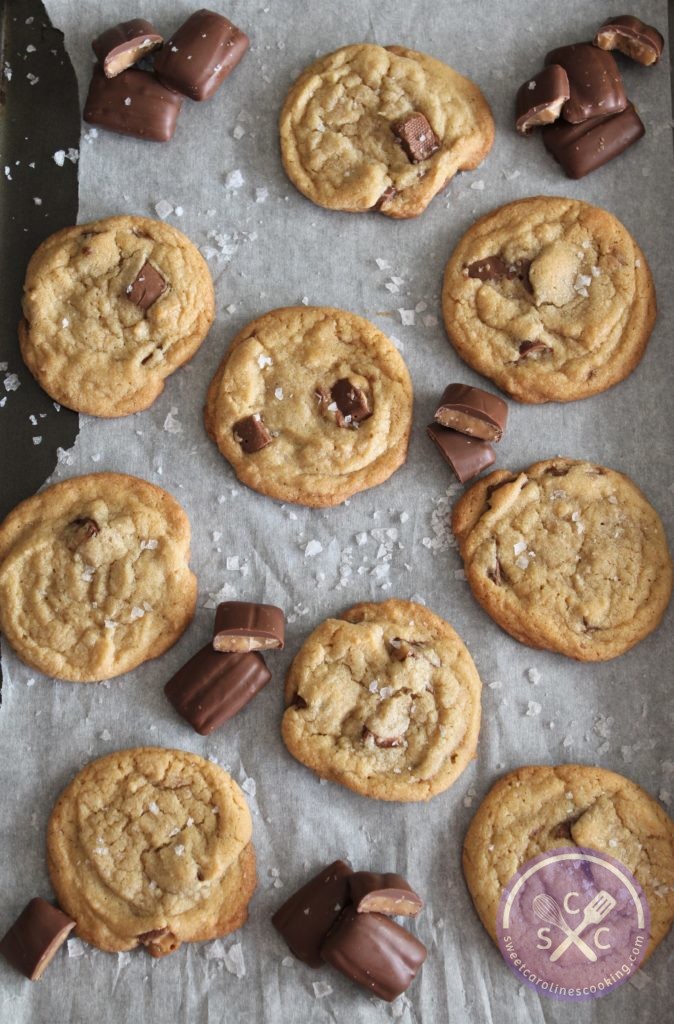 Why yes, if you're wondering, these cookies taste as good as they sound. I mean, how can you go wrong with brown butter, toffee and chocolate? These cookies are the ideal combination of slightly chewy and slightly crunchy, and the Fleur de Sel sprinkled on top takes them to the next level. Now go get baking!
brown butter toffee cookies
Prep time:
Cook time:
Total time:
Ingredients
1 cup (2 sticks) unsalted butter, at room temperature and cut into tablespoon-sized pieces
1 cup brown sugar
⅔ cup white sugar
2 eggs, at room temperature
1½ tsp. vanilla extract
2¾ cups all-purpose flour
1 tsp. cornstarch
1 tsp. baking powder
1 tsp. baking soda
¾ tsp. salt
1 cup Heath Milk Chocolate Toffee Pieces, finely chopped
Fleur de Sel, for garnish
Instructions
Preheat over to 350 degrees Fahrenheit. Line a cookie sheet with parchment paper then set aside.
In a medium skillet, melt pieces of butter over medium-low heat. Once butter has melted, increase heat to just above medium heat. Swirl and scrape the sides of the pan frequently with a wooden spoon (the butter will bubble and pop). Once the bubbling slows, the butter will begin to turn brown.
Watch the butter very carefully at this point; once it begins to brown and you smell the nutty aroma of browned butter, remove from heat quickly and pour into a heatproof bowl.
Allow butter to cool for 25-30 minutes before proceeding with the recipe.
Add brown and white sugars into cooled browned butter and stir well.
Stir in room temperature eggs, one at a time, stirring well after each addition (but do not over stir). Next, add vanilla extract and stir together.
In a separate medium-sized bowl, whisk together the flour, cornstarch, baking powder, baking soda and salt.
Gradually add flour mixture to butter mixture, stirring until ingredients are nearly completely combined.
Add Heath toffee bits and stir until ingredients are incorporated.
Scoop heaping, rounded 1½ tablespoon-sized cookie dough balls onto the prepared cookie sheet, placing cookies at least 2-inches apart.
Bake cookies for 10-12 minutes or until edges are just beginning to turn golden brown. Remove from oven and let cookies cook about 3 minutes.
Sprinkle cookies with desired amount of Fleur de Sel, then transfer to a cooling rack to cool completely.
Repeat steps with remaining cookie dough.
Notes
Recipe from Sugar Spun Run.