branching out. [homemade Chinese orange chicken]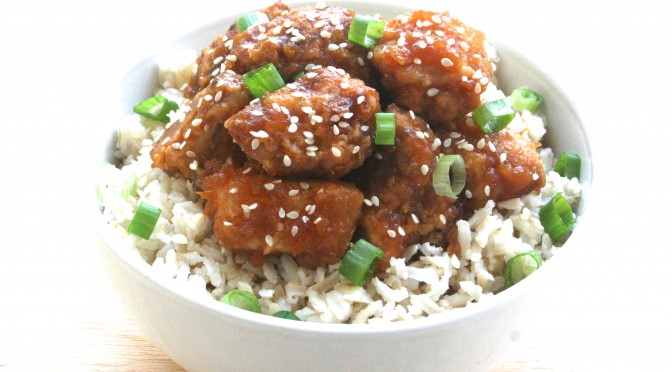 It's been a big week for me, guys. I baked something with chocolate and I made a Chinese dish. Woohoo! This orange chicken was incredibly delicious, but frying the chicken was messy and time consuming. I guess I need to ask Santa for a deep fryer. ;)
homemade Chinese orange chicken
Prep time:
Cook time:
Total time:
Ingredients
Chicken recipe:
1½ lbs. boneless, skinless chicken breasts, cut into 1-inch chunks
1½ cups plus 4 tbsp. cornstarch, divided
3 large eggs, beaten
2-3 cups vegetable oil
Sesame seeds, for garnish
Sliced green onions, for garnish
Brown or white rice
Marinade recipe (might not use all of the marinade):
2 cups chicken broth
1 cup (2 large oranges) freshly squeezed orange juice
1 cup sugar
⅔ cup vinegar
½ cup low-sodium soy sauce
4 cloves garlic, minced
2 tbsp. orange zest
2 tsp. Sriracha, or more, to taste
½ tsp. ginger
½ tsp. white pepper
Instructions
Whisk together chicken broth, orange juice, sugar, vinegar, soy sauce, garlic, orange zest, Sriracha, ginger and white pepper in a large bowl.
In a gallon size Ziploc bag, combine chicken and 1⅓ cup of the marinade; marinate for at least 30 minutes, turning the bag occasionally. Drain the chicken from the marinade, discarding the marinade in the bag.
Heat remaining marinade in a medium saucepan over medium heat. Bring to a boil and stir in 4 tbsp. cornstarch combined with 4 tbsp. water. Cook, stirring frequently, until thickened, about 2-4 minutes; keep warm.
Working three to four pieces at a time, dip each piece of chicken into the eggs first, then dredge in remaining 1½ cup cornstarch, pressing to coat.
Heat vegetable oil in a large saucepan. Once hot, add chicken pieces and fry until golden brown and cooked through, about 3-4 minutes. Transfer chicken to a paper towel-lined plate. Repeat with the remaining chicken pieces. Discard excess oil.
Once all the chicken is fried, place pieces in a large bowl and pour desired amount of sauce over chicken; toss. (Might not use all the sauce)
Serve chicken over brown or white rice (I used brown basmati rice), then garnish with sesame seeds and sliced green onion.