catch of the day. [tequila-lime mahi mahi tacos w. honey-lime sour cream]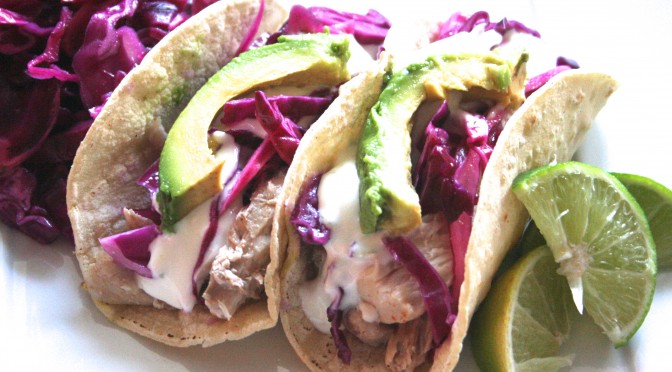 Happy hump day! Hope everyone is having a wonderful week so far. Per usual, it's been pretty hectic over here, but I've got to say, these tequila-lime mahi mahi tacos made everything much better.
Though the marinade didn't flavor the fish as much as I'd hoped, the honey-lime sour cream and vinegar-soaked cabbage brought the tacos to life. Serve alongside an ice cold beer and you've got yourself the perfect summer meal.
Recipe:
3 tbsp. fresh lime juice
3 tbsp. tequila
1 tbsp. roughly chopped fresh cilantro, plus more for garnish, if desired
1 clove garlic, minced
1 tsp. ground cumin
1/2 tsp. cayenne
1 lb. mahi mahi
3 tbsp. rice wine vinegar
1 tsp. canola oil
2 3/4 tsp. honey, divided
1 1/2 tsp. salt, divided
1/2 tsp. ground black pepper, divided
3 cups thinly sliced red cabbage
3/4 cup reduced-fat sour cream
1 tbsp. lime juice
Zest of one lime
8 corn tortillas
1 avocado, thinly sliced
2 limes, quartered
Directions:
In a resealable plastic bag, combine 3 tbsp. lime juice, tequila, 1 tbsp. cilantro, garlic, cumin and cayenne. Add fish, seal bag and turn to coat; refrigerate, turning once, 1 hour.
In a bowl, combine vinegar, oil, 2 tsp. honey, 1/4 tsp. salt and 1/4 tsp. pepper. Add cabbage; toss well.
In another bowl, combine sour cream, 1 tbsp. lime juice, zest, 3/4 tsp. honey and 1/2 tsp. salt.
Heat grill. Remove fish from marinade; season with remaining 1/2 tsp. salt and remaining 1/4 tsp. pepper. Grill, turning once, until just cooked through and lightly charred, 4 minutes per side.
Transfer fish to a cutting board and coarsely chop.
Grill tortillas, turning once, 30 seconds per side. Divide fish, slaw and avocado among tortillas, then top with sour cream mixture. Garnish with lime juice and extra cilantro, if desired.
Recipe adapted from Epicurious.