down to earth. [mushroom lentil burgers w. arugula & goat cheese]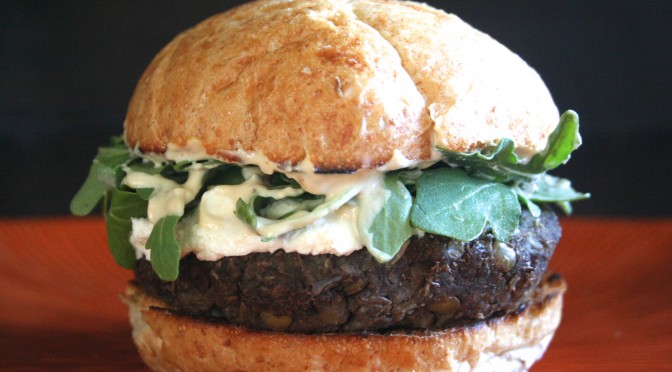 Hope everyone is having a great Saturday. Whether or not you're a vegetarian, this "burger" is definitely worth making. It's flavorful and complex–the bite of the Dijon mayonnaise compliments the earthy tasting patty, while the slightly crispy bun perfectly contrasts the creamy goat cheese and tender patty. It's a healthy alternative to a hamburger with fewer calories. :)
Recipe:
1 tbsp. olive oil, divided
3/4 cup sweet onion, finely diced
2 cloves garlic, minced
5 whole-wheat hamburger buns, toasted and divided
6 oz. presliced cremini mushrooms
1 cup black beluga lentils, precooked
6 tsp. Dijon mustard, divided
2 tsp. fresh thyme, chopped
1/2 tsp. black pepper
1/4 tsp. salt
1 large egg, lightly beaten
2 oz. goat cheese, crumbled
3 tbsp. mayonnaise
1/2 cup baby arugula
Directions:
Preheat broiler.
Heat a large nonstick skillet over medium-high heat. Add 1 tsp. oil to pan, then add onion and garlic; sauté 3 minutes or until onion is tender and translucent. Remove from heat.
Place 1 bun in a food processor and process until coarse crumbs form. Remove breadcrumbs from food processor; set aside.
Combine mushrooms, lentils, 2 tsp. mustard, thyme, pepper and salt in a food processor; pulse to combine.
Combine onion mixture, breadcrumbs, mushroom mixture and egg in a large bowl, stirring well. Divide mixture into 4 equal portions, gently shaping each into a 1/2-inch-thick patty. Heat a non-stick grill pan over medium-high heat. Add the remaining 2 tsp. oil to pan; swirl to coat. Add patties, cook for 4 minutes on each side or until browned. Remove patties from pan; arrange in a single layer on a baking sheet. Sprinkle patties evenly with cheese. Place under broiler for 2 minutes or until cheese is softened.
Combine mayonnaise and remaining 4 tsp. mustard in a small bowl. Spread the top half of each of the remaining 4 buns with 2 tsp. mayonnaise mixture. Top each bottom half of bun with 1 patty. Divide arugula evenly among burgers; top with top half of bun, mayonnaise-coated side down.
Recipe adapted from Cooking Light.