stack 'em. [bacon, egg & spinach breakfast stacks]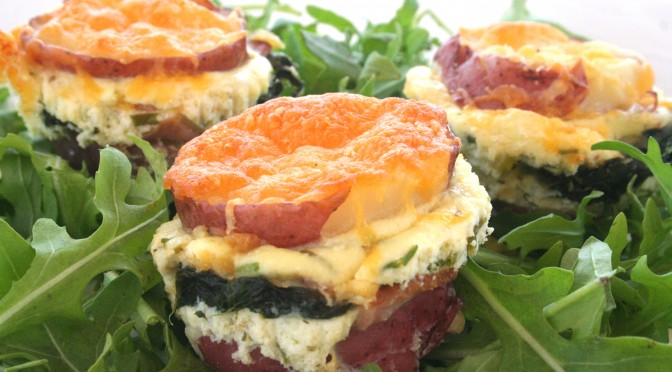 You might not believe me (or, you might) when I tell you that this is a Weight Watchers recipe. My mom and I made a few of the recipes while I was home this past weekend, and I've got to tell you–they're fantastic!
We made these bacon, egg and spinach stacks on Mother's Day morning. One breakfast cup was the perfect amount of food to tide us over before lunch at the country club. Though I'm not on the diet, I will most definitely make these again.
Recipe:
6 small redskin potatoes
9 oz. fresh spinach
1 cup part-skim ricotta cheese
2 large eggs
2 tbsp. fresh chives
6 slices uncooked Canadian-style bacon
1 cup low-fat shredded cheddar cheese
Directions:
Preheat oven to 350 degrees. Place muffin liners in a 12-hole muffin tin.
Wash and steam potatoes until just done or slightly underdone, about 10-15 minutes; cool immediately. Slice each potato into four rounds; set aside.
In a small bowl, combine ricotta, cheese, egg and chives.
Place a middle slice of potato in the bottom of each muffin hole so it lays flat. Top each with a quarter slice of bacon, 1 heaping teaspoon of ricotta cheese mixture, about 2 tablespoons of spinach, about 1 tablespoon of cheddar cheese, another bacon quarter, and another heaping teaspoon of ricotta mixture. Finish stacks by placing remaining potato slices on top and sprinkling with a few remaining shreds of cheese.
Bake stacks until fully set and ricotta is cooked through, about 30-35 minutes, and then transfer to racks to continue cooling. Remove liners and serve warm.
Recipe from Weight Watchers.