give back. [Share Our Strength's Great American Bake Sale – Los Angeles]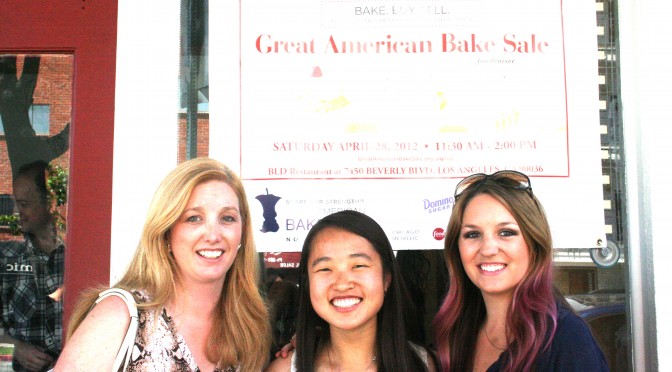 This past Saturday, food bloggers across the country hosted and participated in Share Our Strength's Great American Bake Sale to end childhood hunger. Thanks to Chung-Ah at Damn Delicious and Geni at Sweet and Crumby for hosting the Los Angeles bake sale. The 30 plus bloggers who participated raised $700 for the organization. :)
It was so nice to finally meet Geni, whose blog I've been following for over a year, and meet some new bloggers–Samantha at The Little Ferraro Kitchen and Gerry at Foodness Gracious. After the bake sale, the four of us got to know each other over a delicious lunch at BLD, where the event took place. I can't wait for next year!
Samantha, Sara, me and Chung-Ah.
Chung-Ah's sugar cookie fries and vanilla cupcake hamburgers.
My failed attempt at a photo of my espresso caramel bars (with the blue ribbons).
Hershey's bar iPhone case. Amazing!