Lean on Lamb – The Supper Club, round two. [braised lamb shanks w. white beans & tomatoes]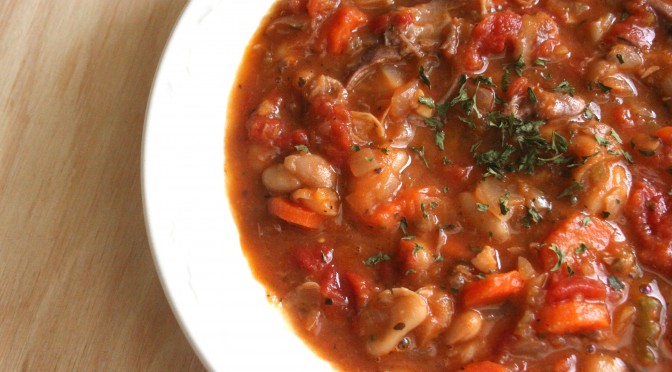 Sorry I've been MIA this week! I focused all of my time and energy on preparing and hosting my second lamb supper club. If you recall, the Tri-Lamb Group approached me last November to take part in the company's supper club series. The Tri-Lamb Group is "a collaborative initiative of lamb producer organizations from the U.S., New Zealand and Australia which focuses on educating Americans about lamb." The company selects food and lifestyle bloggers in LA, Boston and Washington, D.C.
Just as last time, the Tri-Lamb Group provided me with a recipe and all the ingredients. I was only in charge of providing hors d'oeuvres and side dishes.
I kicked off the night with a few simple appetizers, including fresh shrimp with homemade cocktail sauce, veggies with homemade ranch dressing and an out of this world hot cheese dip (recipe below).
For the main course, I made the Tri-Lamb Group's recipe for braised lamb shanks with white beans and tomatoes, served alongside a salad with dried cranberries, slivered almonds, feta cheese and balsamic vinaigrette. My friend Danielle concluded the dinner party with a divine three-layer strawberries and cream cake from Vanilla Bake Shop.
I want to thank McKinzey at Fleishman-Hillard, Inc. for all of her help throughout this supper club series. I had an absolute blast, and I know my dinner guests would say the same!
Braised lamb shanks with white beans and tomatoes recipe (serves 10-12):

4 celery ribs, sliced crosswise into 1/2-inch pieces
2 cans diced tomatoes and juice
1/2 cup dry red wine
8 garlic cloves, minced
3 tbsp. herbs de provence
6 lamb shanks
3 cups low-sodium chicken broth
5 medium carrots, peeled and sliced
2 medium onions, chopped
2 tbsp. olive oil
1/4 teaspoon pepper
1/4 teaspoon salt
4 tbsp. tomato paste
4 cans cannellini beans (about 66 oz.)
Directions:
Heat oil in a large Dutch oven over medium-high heat. Season lamb shanks with salt and pepper. Add the shanks to hot oil and cook, browning each side, about 4 minutes per side (if necessary, cook in batches). Remove shanks to a clean plate and set aside.
Add onion, carrot, celery, tomato paste, herbs de Provence, garlic, 1/8 teaspoon salt and 1/8 teaspoon pepper, cook until softened, about 10 minutes. Add wine, scraping up any brown bits on the bottom of the pan.
Add broth, tomatoes and beans; bring mixture to a simmer. Nestle browned lamb shanks into broth mixture; cover and cook until meat is tender and easily falls off the bone, about 1 1/2 to 2 1/2 hours depending on size of shanks. Remove meat from bones–remove bones from stew. Place stew in individual bowls.
Hot cheese dip recipe:
2 cups good-quality mayonnaise
4 cups shredded mozzarella cheese
1 cup onion, finely diced
Directions:
Preheat oven to 250 degrees.
Mix all ingredients together in a large bowl. Cut a medium-sized hole in the top of a sourdough bread bowl. Remove the interior bread from the bread bowl. Pour the cheese mixture into the bread bowl and fill to the brim. Replace the bread lid (may need to trim some bread off of the bottom).
Cover bread bowl completely in foil, then place in oven. Bake for about 3 1/2 hours, or until cheese is melted and mixture is hot. Serve with sliced French baguette or vegetables.
I do not take credit for that lamb drawing.
Cheese kiss.
All accounted for.
Molly loves clean up time.
Thanks Danielle!