not quite kid-friendly. [spiked cereal-milk shake]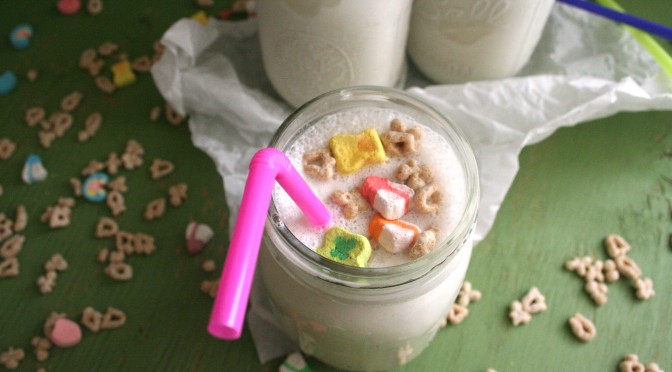 A few months ago, Conan had pastry chef Christina Tosi of Momofuku Milk Bar on the show. During the episode, she taught Conan how to make cereal-milk white Russian milkshakes. I couldn't get over the brilliance and creativity (and simplicity) of this drink–I had to recreate it.
I excluded the Kahlua in my version, but that didn't take away from the rich and sweet vanilla flavor. This grown-up milkshake just might be my new go-to dessert. ;)
2 cups non-fat milk
3 cups Lucky Charms, plus more for garnish, if desired
1.5 qt. Dryer's Vanilla Bean ice cream, plus more as needed
4-5 shots Skyy vodka, plus more or less to taste
Directions:
Pour milk and cereal into a large bowl and mix thoroughly. Place bowl in refrigerator for 20-30 minutes, until cereal is soggy and has flavored the milk.
Strain mixture, so only the cereal-flavored milk remains. Add vodka, to taste. Pour milk into a blender (or use an immersion blender) and add ice cream in portions. Add more ice cream until reach desired consistency. Serve milkshake in a tall glass or mason jar with a straw. Top with dry cereal, if desired.