gone bananas. [banana bread w. toasted walnuts]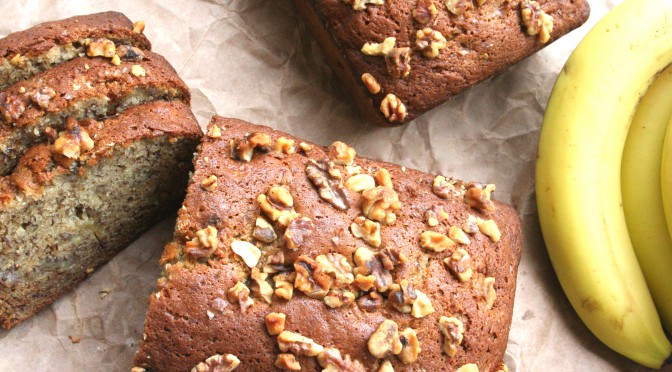 Ever since Kristy over at Eat, Play, Love started her 'Quest for the Best Banana Bread,' I've been on the hunt to find some contenders . Though I wouldn't know if this is the best bread out there, as I haven't tested multiple recipes like Kristy, this one has to rank pretty high up there.
The prominent flavors of banana and cinnamon pair wonderfully with the toasted walnuts. Even the texture of the bread is spot on, with an incredibly moist interior and slightly crunchy exterior. Perfect for breakfast with a cup of coffee, a mid-day snack or late night treat.
Recipe:
3 1/4 cups flour
2 tsp. baking soda
1/2 tsp. cinnamon
1/4 tsp. nutmeg
1/2 tsp. salt
4 large eggs, at room temperature
2 1/3 cups sugar
1 cup vegetable oil
3 cups coarsely mashed very ripe bananas (7 large)
1/4 cup crème fraîche
2 tsp. vanilla
1 bag (2.25 oz.) shelled walnuts, toasted and chopped
Directions:
Preheat oven to 350°F. Butter 2 (9- by 5- by 3-inch) metal loaf pans, then cut parchment paper to fit the bottom of each pan. Butter top of parchment, then dust with flour, knocking out excess.
Sift together 3 1/4 cups flour, baking soda, cinnamon, nutmeg and salt into a bowl.
Beat together eggs and sugar in bowl of a stand mixer at medium-high speed until very thick and pale and mixture forms a ribbon when beater is lifted, about 10 minutes. Reduce speed to low and add oil in a slow stream, mixing, then mix in bananas, crème fraîche, and vanilla. Remove bowl from mixer and fold in flour mixture gently but thoroughly.
Divide batter between loaf pans, spreading evenly, Halfway through the baking process, top both loaves with chopped walnuts. Bake loaves in middle of oven until golden brown and a toothpick comes out clean, 1 hour.
Cool loaves in pans on a rack 10 minutes, then turn out onto rack. Turn loaves right side up and cool completely.
Recipe adapted from Epicurious.