tacos w. shredded chicken in a spicy poblano cream sauce topped w. caramelized onions & sour cream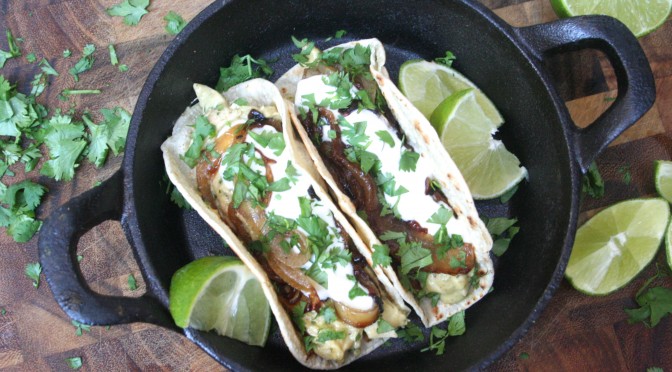 Olive oil
4 boneless, skinless chicken breasts, both sides seasoned with salt and pepper
1 poblano pepper, seeded and deveined
1 jalapeño, seeded and deveined
2 Wyler's chicken bouillon cubes dissolved in 1 cup hot water
3 tbsp. cream cheese, at room temperature
½ cup shredded Mexican cheese
3-4 tbsp. fresh cilantro, chopped
Juice of ½ lime
Salt and pepper, to taste
1 tbsp. butter
1 onion, sliced
Sour cream
Cilantro, for garnish
Corn tortillas
Preheat broiler and move oven rack to the top. Line a cookie sheet with foil, then place the poblano and jalapeño on the tray.
Heat a large skillet over medium to medium-high heat; add olive oil. Once hot, add chicken breasts and sauté until lightly browned, about 5 minutes per side. or until cooked through. Remove chicken from the pan and place on plate. Once cool enough to handle, shred the chicken.
Broil chiles 8-10 minutes, then flip over and broil another 8-10 minutes, or until charred. Remove chiles from the oven, then transfer to a glass bowl; tightly cover the bowl with Saran wrap. Let chiles sit about 10 minutes, to help loosen skins. Once chiles are cool enough to handle, peel and seed the chiles, discarding skins.
While chiles are broiling, heat a small skillet over medium heat. Add butter; once melted, add onion slices. Cook onions, stirring occasionally, until caramelized, about 15-20 minutes. Set aside.
In a food processor, combine roasted poblano, jalapeño and chicken broth, and process until smooth. Transfer chile mixture to a medium skillet over medium heat. Add softened cream cheese and whisk until incorporated. Next, add shredded cheddar cheese, stirring constantly, until cheese melts. Once sauce is smooth, add cilantro, lime and season with salt and pepper. Add shredded chicken and mix with sauce.
Heat a separate skillet over medium-high heat and brown corn tortillas, about 30-45 seconds per side. Remove tortillas from the skillet.
To prepare tacos: place a tortilla on a plate, then spread poblano chicken down the center. Top chicken with caramelized onions, sour cream and fresh cilantro. Garnish with lime wedges.
Recipe by
sweet caroline's cooking
at https://sweetcarolinescooking.com/2014/07/22/green-goddess-tacos-w-shredded-chicken-in-spicy-poblano-cream-sauce-topped-w-caramelized-onions-sour-cream/