bbq-tequila chicken tostadas topped w. jalapeño-pineapple salsa & spicy bbq sauce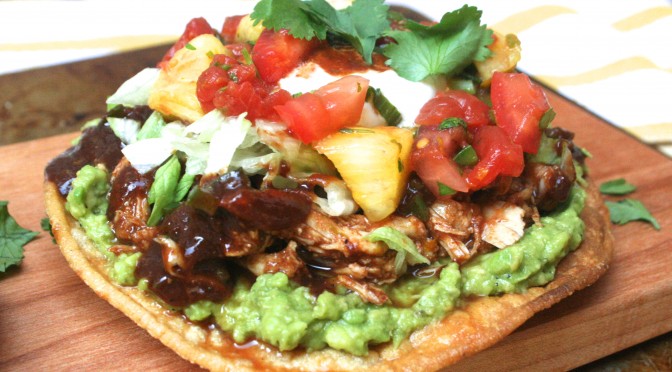 BBQ-tequila chicken recipe:
3-4 cups boneless, skinless chicken breasts, poached then shredded
1 cup BBQ sauce (I used Trader Joe's BBQ sauce)
2 tbsp. Anejo Herradura tequila
2 tsp. lime zest
1 tsp. orange zest
Juice of 1½ limes
1 clove garlic, minced
1 jalapeño, seeded, deveined and finely chopped
1 tsp. cumin
½ tsp. salt, plus more to taste
½ tsp. pepper, plus more to taste
Jalapeño-pineapple salsa recipe:
1 (12 oz.) can diced tomatoes, drained
1¼ cup fresh pineapple, diced
2 jalapeños, seeded, deveined and finely chopped
2 green onions, chopped
½ cup fresh cilantro, chopped
1 tsp. lime zest
½ tsp. orange zest
Juice of 1 lime, plus more to taste
2 tbsp. Anejo Herradura tequila
½ tsp. salt, plus more or less to taste
Tostada recipe:
4-8 corn tortillas
Canola oil
1 avocado, mashed then mixed with salt, pepper, lime juice, and chopped cilantro
Fresh cilantro, for garnish
Low-fat sour cream, for garnish
Iceberg lettuce, cut into thin strips, for garnish
For the BBQ chicken: In a medium bowl, mix together the BBQ sauce, tequila, lime zest, orange zest, lime juice, garlic, jalapeño, cumin, salt and pepper. In a separate medium bowl, combine the cooked, shredded chicken with ¾ cup of the BBQ sauce. Add more BBQ sauce if the chicken is not entirely coated. Keep warm.
For the pineapple salsa: In a medium bowl, combine the diced tomatoes, pineapple, jalapeño, green onions, cilantro, lime zest, orange zest, lime juice, tequila and salt.
To make tostadas: Heat a skillet over medium to medium-high heat. Add canola oil to pan, about ½-inch up the sides of the pan. Add corn tortillas to the pan, one at a time, and cook for about 30-60 seconds per side, until golden brown and bubbly. Remove tortillas from pan and drain on a paper towel-lined plate. Set aside until ready to use.
To serve: Place a crispy corn tortilla on the plate then spread the avocado mash over the bottom. Next, add the shredded chicken and top with lettuce and a dollop of sour cream. Drizzle BBQ sauce over tostada then top with pineapple salsa and garnish with fresh cilantro.
Recipe by
sweet caroline's cooking
at https://sweetcarolinescooking.com/2014/06/30/spice-it-up-bbq-tequila-chicken-tostadas-topped-w-jalapeno-pineapple-salsa-spicy-bbq-sauce/