turkey chili loaded w. vegetables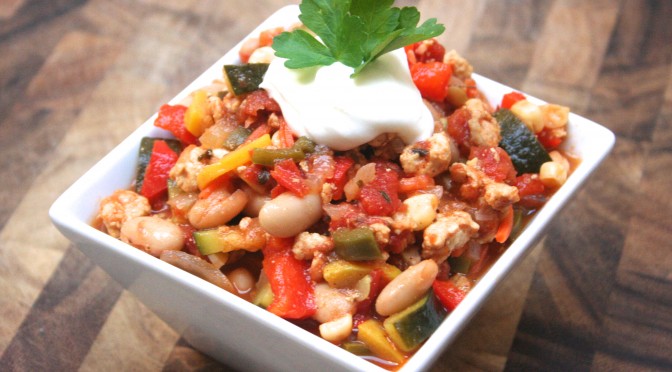 2 tbsp. olive oil
1 medium yellow onion, finely diced
4-5 cloves garlic, minced
2 zucchini, halved lengthwise, halved again, then diced
1 yellow squash, halved lengthwise, halved again, then diced
2 jalapenos, seeded, deveined and diced
1 red bell pepper, seeded and diced
1 lb. lean ground turkey, cooked and crumbled
1 (15 oz.) can diced tomatoes
4 Roma tomatoes, finely diced
1 cup chicken broth, plus more if chili is too thick
¾ cup frozen corn
½ cup shredded carrots, cooked
1 (15 oz.) can cannellini beans, drained and rinsed
1½ tbsp. chili powder, plus more to taste
1½ tbsp. cumin, plus more to taste
1½ tsp. oregano, plus more to taste
¼ tsp. cayenne, plus more to taste
Salt and pepper, to taste
Sour cream, for garnish, if desired
Warm a large skillet over medium heat. Add olive oil. Once warm, add diced onion and garlic, and saute until translucent and aromatic, about 5 minutes. Add zucchini, squash, jalapeno and red pepper; saute 5 minutes until slightly soft.
Warm another large skillet over medium-high heat, then add turkey. Cook, breaking up the meat into crumbles with a wooden spoon, until done, about 5-7 minutes.
Pour the canned and Roma tomatoes into a large pot. Bring the tomatoes to a simmer, and cook 5 minutes. Add veggie mixture, ground turkey and chicken broth to the tomatoes; mix and cook for 5 minutes. Add corn, shredded carrots, and beans to the pot. Season chili with chili powder, cumin, oregano, cayenne, salt and pepper. Add more chicken broth if chili is too thick. Serve hot and garnish with sour cream, if desired.
Recipe by
sweet caroline's cooking
at https://sweetcarolinescooking.com/2014/04/23/cure-the-cold-turkey-chili-loaded-w-vegetables/