smoked pork loin sandwich w. homemade bbq sauce & coleslaw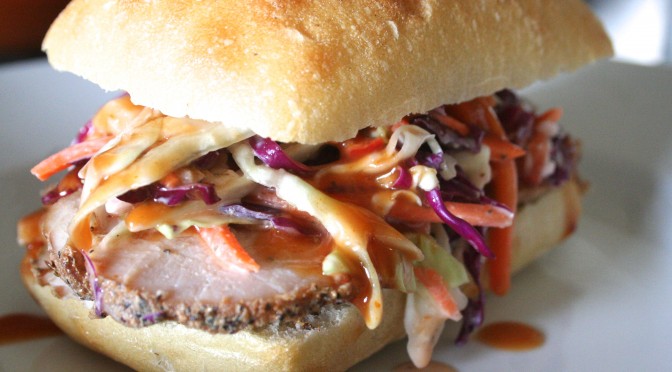 Pork loin recipe:
1 boneless pork loin (5 lbs.), with fat left on
The Salt Lick Original Dry Rub
Kosher salt
Trader Joe's Par Baked Panini Rustic Rolls
Coleslaw recipe:
¾ cup mayonnaise
¼ cup Dijon mustard
¼ cup packed light brown sugar
3 tbsp. apple cider vinegar
4 tsp. celery seeds
1 tsp. salt
¼ tsp. pepper
⅛ tsp. cayenne
3 cups shredded green cabbage (about ½ head cabbage)
3 cups shredded red cabbage (about ½ head cabbage)
1 red bell pepper, finely diced
1 large carrot, peeled and shredded
½ cup grated yellow onion
¼ cup minced fresh parsley
BBQ sauce recipe:
1 cup apple cider vinegar
1 cup ketchup
3 tbsp. packed dark brown sugar
1 tbsp. yellow mustard
1 tbsp. molasses
1 tsp. salt
½ tsp. dried crushed red pepper
For the pork: Rub entire pork loin with The Salt Lick Dry Rub and kosher salt. Place in large bag and refrigerate 2-3 hours, or overnight.
Heat smoker to 225 degrees, then cook pork loin 2-4 hours, or until pork reaches 155-160 degrees (check meat at 2 hours).
Remove meat from smoker when done. Double wrap the pork in foil then wrap in an old towel. Place meat in a cooler (without ice), until ready to serve.
When ready to serve, remove meat from cooler, towel and foil and slice into thin pieces.
For the coleslaw: In a bowl, combine the mayonnaise, mustard, sugar, vinegar, celery seeds, salt, pepper and cayenne, and whisk well to dissolve the sugar.
In a large bowl, combine the remaining ingredients. Toss with the dressing until evenly coated. Adjust seasoning, to taste. Place in the refrigerator, covered, to chill slightly before serving.
For the BBQ sauce: In a bowl, combine all the ingredients and whisk well to dissolve the sugar. Dress the pork sandwiches with sauce, to taste.
Sandwich assembly: Toast the inside of both sides of the rolls. Next, place 2-3 pieces of thinly sliced pork on bottom half of the bread. Top with coleslaw, then drizzle desired amount of BBQ sauce on top. Close sandwich with the top bun. Serve.
Recipe by
sweet caroline's cooking
at https://sweetcarolinescooking.com/2013/05/28/mouthwatering-smoked-pork-loin-sandwich-w-homemade-bbq-sauce-and-coleslaw/