crock-pot shredded chicken w. corn, black beans & jalapeno in a homemade crunchy taco shell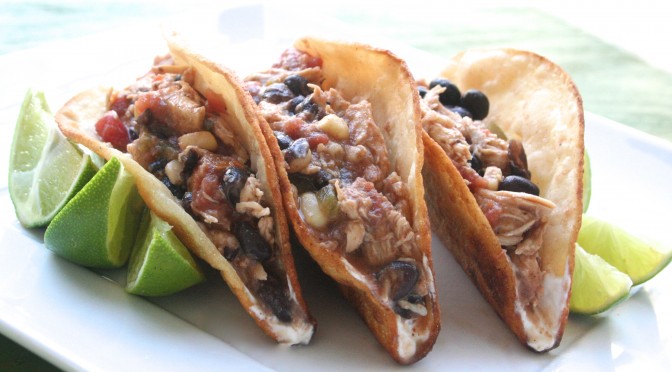 5-6 boneless, skinless chicken breasts
¾ cup low-sodium chicken broth
2 (15 oz.) cans black beans, drained and rinsed
2 (15 oz.) cans diced tomatoes, drain ½ of the liquid from each can
½ bag frozen corn
2 jalapeno, seeded and diced
2 tsp. ground cumin
2 tsp. ground chili powder
Salt and pepper, to taste
Sour cream, for garnish
Fresh lime juice, for garnish
Corn tortillas
Vegetable oil
Place chicken, broth, beans, tomatoes, corn, jalapeno, cumin, chili powder, salt and pepper in bowl of crock pot. Submerge chicken in liquid. Turn crock pot to high, and cook for 4-5 hours, until chicken is cooked and tender.
Once cooked, shred chicken (can do straight in crock pot with knife and fork, or remove from pot). Serve shredded chicken in homemade crunchy taco shell and garnish with sour cream and fresh lime juice.
To make shells, warm a small skillet over high heat, then fill pan about ½ inch high with oil. Heat oil about 1-2 minutes. Place one tortilla at a time into the oil, using tongs. Immediately fold shell in half, holding in place with the tongs, and leaving a space between the two sides. Cook about 15-20 seconds, then flip and brown other side. Drain tortillas on paper towel-lined plate then sprinkle with salt.
Recipe by
sweet caroline's cooking
at https://sweetcarolinescooking.com/2013/05/01/taco-time-crock-pot-shredded-chicken-w-corn-black-beans-jalapeno-in-a-homemade-crunchy-taco-shell/