zucchini boats stuffed w. couscous, bell peppers, mushrooms, feta & toasted pine nuts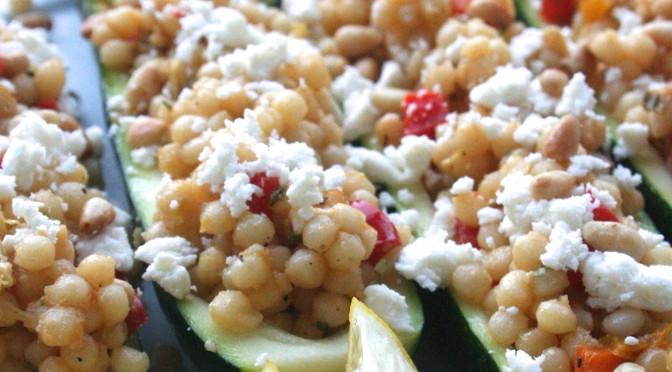 5 zucchini, cut in half, insides scooped out (reserve insides)
1½ cup pearl couscous
2½ cups chicken broth
2 tbsp. olive oil
1 red bell pepper, seeded and diced
1 orange bell pepper, seeded and diced
2-3 scallions, finely diced
¼ cup cremini mushrooms, diced
¼ tsp. cayenne, plus more to taste
2 tsp. dried parsley
2-3 tbsp. crumbled feta, plus more for topping
2 tbsp. pine nuts, toasted, for topping
Salt and pepper, to taste
Juice of 1 lemon
Preheat oven to 375 degrees.
Pour chicken broth into a large pot and bring to a boil. Add couscous and a dash of salt to pot, then reduce to a simmer and cover. Cook 10-15 minutes, until all chicken broth absorbs.
Trim the ends off zucchini. Cut zucchini in half lengthwise, then scoop out pulp, leaving about ½ inch shells. Finely chop pulp, and place in bowl. Set aside.
Warm a large skillet over medium heat, then add 1 tbsp. olive oil. Once oil is hot, add peppers and scallions. Cook and stir occasionally, until peppers soften, about 5-8 minutes. Add remaining 1 tbsp. olive oil, mushrooms and zucchini pulp and cook another 3-5 minutes. Season with cayenne, parsley, salt and pepper. Remove from heat, then add couscous and mix.
Heat a small skillet over medium-high heat, then add pine nuts. Toast until golden brown, flipping pan occasionally, about 3-5 minutes.
Divide couscous mixture evenly among zucchini. Top with crumbled feta and toasted pine nuts.
Lightly spray a baking sheet with cooking spray. Place zucchini on tray then put in oven. Cook 20-25 minutes, until zucchini softens. Once done, remove from oven, then squeeze fresh lemon juice on top of all zucchini.
Recipe by
sweet caroline's cooking
at https://sweetcarolinescooking.com/2013/04/03/all-aboard-zucchini-boats-stuffed-w-couscous-bell-peppers-mushrooms-feta-toasted-pine-nuts/