kale & quinoa salad w. dried cranberries, walnuts & feta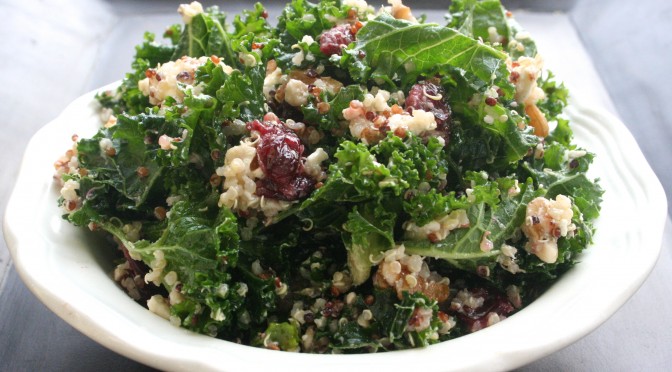 2 cups water
1 cup Trader Joe's quinoa
5 oz. (1/2 bag) chopped kale
3½ tbsp. olive oil
3 tbsp. freshly squeezed lemon juice
2 tsp. Dijon mustard
1 clove garlic, minced
Salt and pepper, to taste
4 oz. (1/2 bag) dried cranberries
½ - 1 cup chopped walnuts
¼ cup crumbled feta cheese, plus more or less to taste
Bring a large pot of water to a boil. Stir quinoa into the boiling water, then reduce heat to a simmer and cover. Cook 10-15 minutes, until all water absorbs into the quinoa. Remove pot from heat and allow quinoa to cool completely, uncovered.
In a small bowl, whisk together olive oil, lemon juice, Dijon mustard, garlic, salt and pepper until combined.
Put kale in a large mixing bowl, then incorporate dressing. Add cooled quinoa, walnuts, cranberries and feta and toss to incorporate. Refrigerate for 1-2 hours, if desired. Serve.
Recipe by
sweet caroline's cooking
at https://sweetcarolinescooking.com/2013/01/29/addicted-kale-quinoa-salad-w-dried-cranberries-walnuts-feta/