roasted tomato soup w. lemon arugula pesto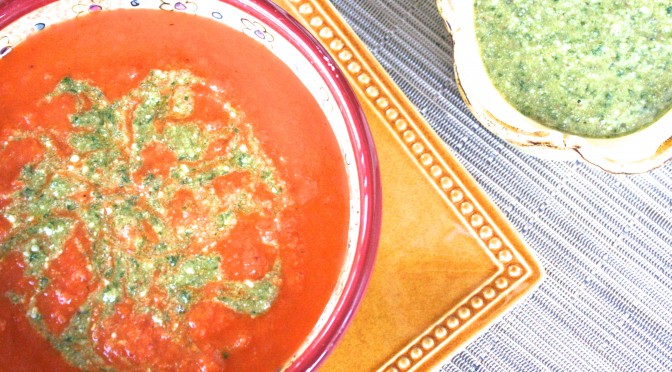 Soup recipe:
5 large, ripe tomatoes, cored
¼ cup olive oil
2 shallots, finely diced
2 cloves garlic, minced
2 (12 oz.) cans crushed tomatoes
1 tsp. salt
⅛ tsp. sugar
½ cup heavy whipping cream
¼ cup good-quality vodka
Dash of cayenne
Salt and pepper, to taste
Arugula pesto recipe:
½ cup pine nuts, toasted
8 oz. baby arugula
2 cloves garlic, coarsely chopped
½ tsp. salt
1 tbsp. freshly squeezed lemon juice
¾-1 cup extra-virgin olive oil
½ cup freshly grated Parmesan cheese
Preheat oven to 400 degrees.
For the soup: Set the cored tomatoes on a foil-lined, rimmed baking sheet. Drizzle with 2 tbsp. olive oil and roast until wrinkly and skin starts to peel, about 30 minutes. While the tomatoes cool, heat the remaining 2 tbsp. olive oil in a small skillet. Add shallots and garlic and saute over medium heat until golden brown and caramelized, 10-15 minutes. Set aside.
When the tomatoes are cool enough to handle, peel off the skins. Roughly dice the tomatoes.
In a large pot, add the roasted tomatoes, shallots, garlic, crushed tomatoes (with juice), 1 tsp. salt and sugar. Using an immersion blender, mix soup until smooth. Stir in cream and vodka. Season with a dash or two of cayenne and salt and pepper.
For the pesto: Toast the pine nuts, stirring occasionally, in a skillet set on medium heat until they turn golden brown, about 4 minutes. Combine the arugula, pine nuts, 2 cloves garlic, ½ teaspoon salt, and lemon juice in the jar of a blender or the work bowl of a food processor fitted with the metal blade, then slowly add in the olive oil through the feed tube and process. Transfer the pesto to a bowl and stir in the Parmesan.
Serve soup hot, and top with arugula pesto. Mix pesto with soup, if desired.
Recipe by
sweet caroline's cooking
at https://sweetcarolinescooking.com/2012/10/18/a-nice-change-roasted-tomato-soup-w-lemon-arugula-pesto/