soba noodles w. vegetables & chicken in peanut sauce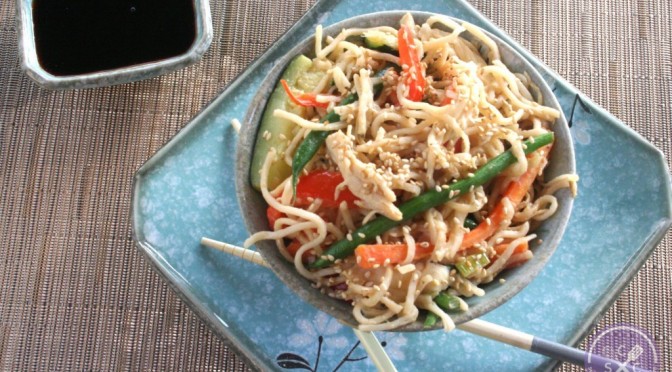 1 cup canned chicken broth
4 tbsp. reduced-fat creamy peanut butter
2 tbsp. dark brown sugar
2 tbsp. low-sodium soy sauce
2 tbsp. fresh lime juice
1 tsp. salt, for cooking pasta
1-2 tsp. olive oil
2 red bell peppers, sliced in thin, lengthwise pieces
3 carrots, peeled and sliced in thin, lengthwise pieces
3 zucchini, sliced in thin, lengthwise pieces
1 pasilla pepper, seeded and sliced in thin, lengthwise pieces
1 bag (8 oz.) Haricot vert green beans
8 small scallions, finely diced
1 bag (8 oz.) uncooked Shirakiku soba noodles
2 tsp. sesame oil
1-2 tsp. crystallized ginger, finely diced
2 cloves garlic, minced
Sesame seeds, for topping
In a medium-size bowl, whisk together broth, peanut butter, sugar, soy sauce and lime juice; set aside.
Bring a large pot of salted water to a boil. Add noodles and cook until tender, about 3-4 minutes. Drain well.
Heat a large wok over medium high heat, then add olive oil. Add red pepper, carrots, zucchini, pasilla pepper, garlic and ginger. Cook vegetables until slightly tender, about 5-7 minutes, stirring occasionally. Add green beans and cook vegetables another 2-3 minutes.
While vegetables are cooking, transfer peanut sauce to a medium saucepan and bring to a boil. Cook until sauce thickens slightly, about 2-3 minutes. Remove from heat.
Add strained soba noodles to vegetables in the wok. Drizzle sesame oil over noodles, then add peanut sauce; stir well. Top noodles with sesame seeds. Serve hot, warm or cold.
Sauce recipe (doubled) from Weight Watchers.
Recipe by
sweet caroline's cooking
at https://sweetcarolinescooking.com/2012/06/13/summer-lovin-soba-noodles-w-vegetables-chicken-in-peanut-sauce/