lemon bars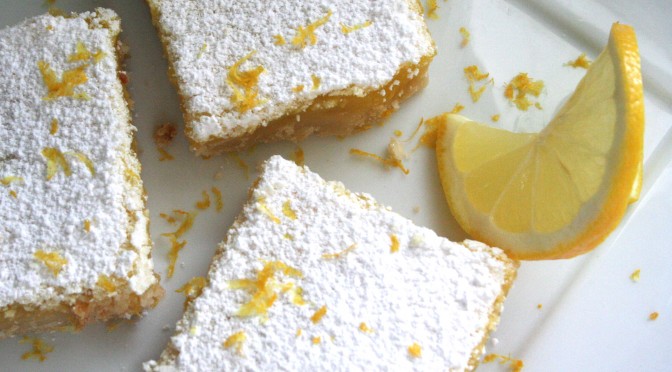 Crust recipe:
1 cup flour
½ cup (1 stick) unsalted butter
¼ cup confectioner's sugar
Lemon filling recipe:
2 eggs
1 cup sugar
3-4 tbsp. lemon juice
2 tbsp. flour
Zest of ½ lemon, if desired
Preheat oven to 350 degrees Fahrenheit.
For the crust:
Cream flour, butter and confectioner's sugar and pat into 8×8″ baking pan. Press firmly. Bake for 15-20 minutes, until top of crust is slightly golden.
For the lemon filling:
Beat eggs, add sugar, lemon juice, 2 tbs. flour and lemon zest, if desired. Pour over crust (when finished baking) and bake for another 15-20 minutes.
Dust lemon bars with confectioner's sugar after baking. Once cool, cut into bars and serve.