chicken tortilla soup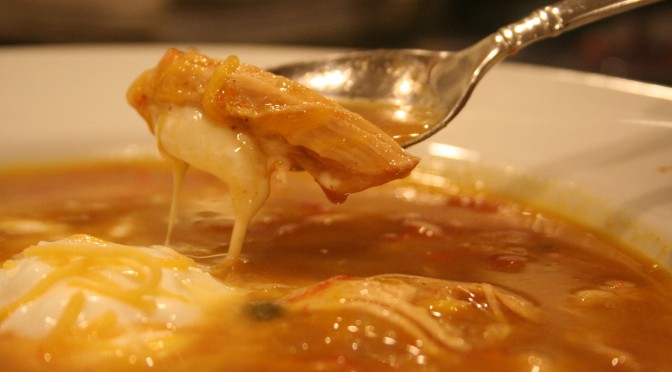 2 tbsp. olive oil
2 cloves garlic, minced, plus more to taste
6 boneless, skinless chicken breasts, poached then shredded
1 large onion, finely chopped
5 tomatoes, diced
1 jalapeno, seeded, de-veined and diced
Salt and pepper, to taste
1½ tsp. ground cumin
1½ tsp. chili powder
8 cups chicken stock, preferably homemade
Sour cream, for garnish
Shredded cheddar cheese for garnish, if desired
Bring a large pot of water to a boil, then poach chicken for about 15 to 20 minutes, until cooked through. Remove chicken from pot; once cool enough to handle, shred the chicken. Place shredded chicken in bowl and set aside.
In a dutch oven or large pot, heat the oil on medium-high heat. Add onions, garlic, jalapeno, salt, pepper and cumin; saute for 5 minutes. Add tomatoes and cook, stirring, for 1 minute. Add chicken stock and bring to a simmer. Simmer for about 20 minutes. Add the chicken and simmer for 5 minutes. Remove from the heat and cover to keep warm.
Ladle soup into bowls and garnish to your liking---sour cream, cheese, avocado, tortilla strips, etc.