turkey burgers w. sun-dried tomato mayonnaise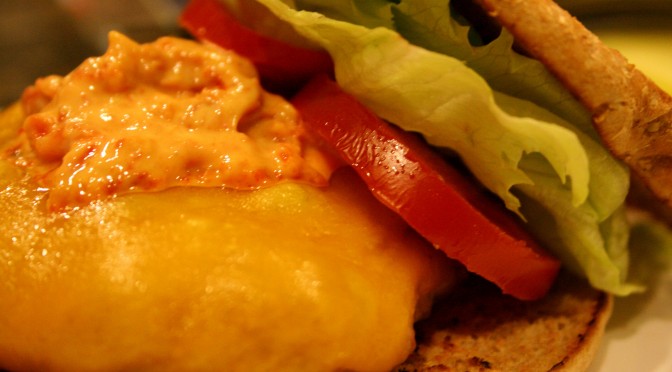 For the turkey burgers:
1 large shallot, finely chopped (1/4 cup)
2 tbsp. olive oil
½ tsp. salt
¼ tsp. black pepper
1½ lbs. ground turkey
Extra-sharp Cheddar slices
Lettuce, for topping
Sliced tomatoes, for topping
4 hamburger or kaiser rolls (Didn't have buns, so I used Oroweat Sandwich Thins instead)
For the sun-dried tomato mayonnaise:
¼ cup oil-packed sun-dried tomatoes, drained then chopped
1 tbsp. water
2 tsp. cider vinegar
¼ tsp. salt
¼ cup mayonnaise
Put oven rack in middle position and preheat oven to 350 degrees.
Cook shallot in oil with salt and pepper in an 8-inch skillet over moderate heat, stirring occasionally, until golden, 2 to 3 minutes, then transfer to a bowl. Add turkey and mix gently but thoroughly.
Turn out turkey mixture onto a sheet of wax paper and divide into 4 patties.
Heat an oiled well-seasoned grill pan over moderately high heat until hot but not smoking, then grill burgers, turning over once, until just cooked through (no longer pink), 8 to 9 minutes total. When burgers have 1 minute left to cook, add a slice of cheese on top and remove from heat once melted.
While burgers are cooking, heat rolls on a baking sheet in oven until crusty, about 5 minutes. Transfer rolls to a rack to cool slightly.
While the burgers are cooking, make the sun-dried tomato mayonnaise. Purée tomatoes with water, vinegar, and salt in a blender or mini food processor, scraping down sides as necessary, then blend in mayonnaise.
To prepare the turkey burgers, place burger with cheese on top of the bottom toasted bun, then spread sun-dried tomato mayonnaise on top and finish with sliced tomatoes and lettuce.
Recipe by
sweet caroline's cooking
at https://sweetcarolinescooking.com/2010/08/12/move-over-beef/