bacon jalapeño popper dip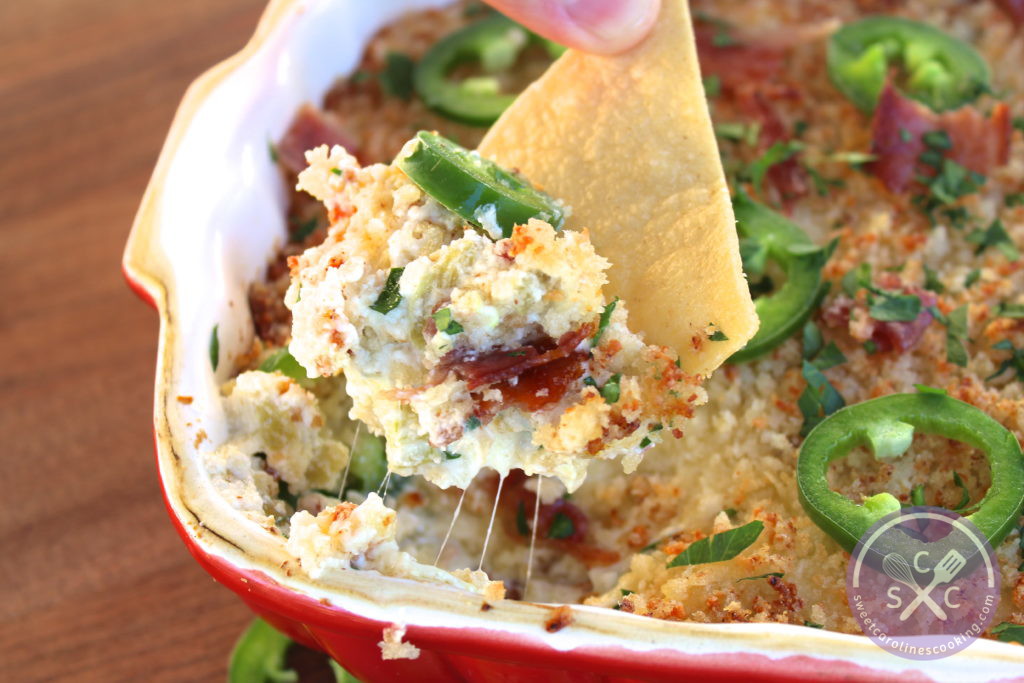 16 oz. cream cheese, softened
1 cup mayonnaise
4 oz. jarred jalapeño, drained and diced
4 oz. jarred green chiles, drained and diced
¾ cup shredded Mexican cheese
1¼ cup shredded pepperjack cheese
½ tsp. cumin
4-6 slices cooked bacon, crumbled
⅔ cup panko breadcrumbs
½ cup grated Parmesan cheese
4 tbsp. unsalted butter, melted
1 jalapeño, sliced with seeds removed, for garnish
Fresh parsley, chopped, for garnish
Preheat oven to 350 degrees. Spray baking dish with non-stick spray.
Add softened cream cheese and mayonnaise to a mixing bowl and beat with a hand mixer until smooth and combined. Add ½ of the bacon, jalapenos, green chiles, cumin, Mexican cheese and pepperjack cheese.
Transfer mixture to prepared baking dish and smooth out with a spatula.
In a small bowl, combine melted butter, panko bread crumbs and Parmesan cheese. Sprinkle over the top of the dip. Sprinkle remaining bacon pieces over the top.
Bake for 20-25 minutes, until panko is lightly golden brown and dip is bubbling. Remove dip from the oven and top with fresh jalapeño slices and chopped parsley. Serve hot with tortilla chips.
Recipe by
sweet caroline's cooking
at https://sweetcarolinescooking.com/2019/01/11/crowd-pleaser-bacon-jalapeno-popper-dip/